Software:
WWPlus
WWPlus32
WWSaver32
WWHotCorner
ImgViewer/16
ImgViewer/32
BirdData

Pet Shop and info:
Pet Supplies
About Us
Travel

Pictures:
Birds1 2 3 
Birds4 5
Cats
Dog
Garden1 2
Petshop
Misc

Visual Basic
Source Code
Samples

Go to Home
About Don Bradner, Arcata Pet, and Arcata Pet Software.
---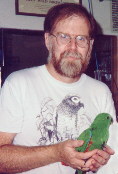 Welcome to Arcata, California, where I live with my wife, Joy. Arcata is a community of 15,000 residents at the North end of Humboldt Bay on California's Northcoast. This is the heart of the redwoods, in fact we refer to it as "behind the Redwood Curtain."

Arcata is the home of Humboldt State University, part of the California State University system. Both Joy and I are graduates of HSU; I have a degree in Political Science and Joy's degree is in psychology with an emphasis on animal behavior.

Beginning in July, 2002, Joy and I are semi-retired. We have purchased a motor home and are beginning to see the many parts of this country we have not had the chance to visit, and to explore in depth places we've only visited briefly before. See our travel page for info on what we've been up to.
---

Arcata Pet
We are the owners of Arcata Pet and Arcata Aquarium, a pet shop. The store was opened in 1972 and we began operating it at the end of 1976. We are a general pet supply operation, dealing extensively in dog and cat products.

In January of 1998 we took the shop online and now the internet is a significant part of our business. Use the Pet Supplies link at left to see our offerings.

The only animals for sale in the store are birds and freshwater fish. Since 1984, all of our bird sales have been of local, hand-raised birds. We buy from our customers, and we also breed several species including African Grey Parrots, Double Yellow-Head Amazons, and Blue & Gold Macaws.
Click here

for a complete guide to the North Coast.

If you pass through Arcata, be sure to drop by and visit the shop. Say hi if Joy or I happen to be around.


---

Arcata Pet Software
I was a shareware author for many years, but beginning in March of 2002 all of my programs have become freeware. They include:
ImgViewer/16, and ImgViewer/32, Windows graphics viewers for GIF, JPG and other formats, WWPlus, a Windows 3.x wallpaper manager/screen saver, WWPlus32, a Windows 95/98/NT wallpaper manager, WWSaver32, an image screen saver for Windows 95/98/NT, and BirdData, a Windows (all versions) record keeping program for bird breeders and keepers.



I program primarily in Delphi and Visual Basic. I help answer other programmers' questions and learn a lot in the process. I received the Microsoft MVP award four times for Visual Basic (1998-2002). The MVP award is given to those who provide peer support for Microsoft products.

I have produced a number of source code samples for VB3 16-bit and VB5/6 32-bit functions which are available here on my VB Sample Page. There you will also find the source code for my January, 1998 VBPJ feature article on custom file dialogs.

---

Photos
I've been scanning photos and slides for a few years, and have moved almost completely to use of a digital camera for the past several years. A number of these photos are available here. Generally I don't mind your use of these photos for your own non-commercial use, but please ask permission first. If the photo is placed on a website or otherwise in public view, please show a credit as well as obtaining permission.

Comments? Send mail to donb@arcatapet.net
Snail Mail: Arcata Pet, 600 F Street, Arcata, CA 95521-6301 USA

Webspace provided by and ©Copyright 1994-2022 by Don Bradner, All Rights Reserved.