Return to A Deliberate Year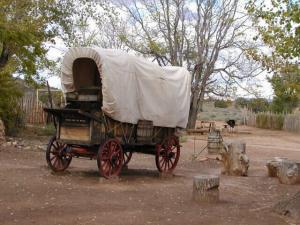 Implausible RV Stuff
11/05/04

Canyon Point Campground
Near Show Low Arizona


I haven't been sleeping well since the election. And no, it's not Angst. Kerry's hopes were not the only thing that collapsed last Tuesday.

So did my airbed.

This is the fifth one to fail. The Aerobed I started out with a year and a half ago lasted about 6 months. Cost about $150. Then I went through a couple of $30 Instabeds I bought at Sam's. Four months on one, and maybe a month on the other. In Farmington I paid about $80 for a fancy one, supposedly ruggedized, and with a piece of 1 inch memory foam built in. Super comfortable. Lasted a month. Then back to another Aerobed. Less than 30 days.

I give up. I never can find a rip, or a tear, or even a pinhole. No sign at all of a leak, other than the fact that my butt hits the plywood in the middle of the night. I've never been anywhere that it was convenient or practical to completely immerse these things, but pouring water over them never reveals any bubbles.

But my bubble butt still bites the boards.

This never happens at home. I am driven to the conclusion that people who actually travel in their travel trailers have to give up the comfort of an air ride. At least if, as I do, they travel from 500 feet to 13,000 feet in altitude. Up and down the back roads, from 6000 feet up to 8,000, then down to 3000, etc. La, la, la. Nary a care til I try to sleep.

They work fine for a week or three. I haven't a clue why I can never find the leaks.

But the next time I come across an upholstery supply house, I'm gonna buy 6 inches of firm foam in a queen sized slab, and this problem will be history. Goombye.

No doubt something else will turn up.

Case in point. When I was walking out of the Walmart in Payson, I stopped to talk to a young girl at the entrance who was giving away kittens. Almost had one of those touchy-feely moments my Republican friends are always warning me about. No doubt about it, seven week old kittens are darned cute. But then I looked over in my basket, which contained a bright green box.

Air Mattress # 6.

Lessee, kittens have claws, don't they?

But I've seen crazier things lately than buying a kitten and an air mattress on the same day. Maybe I should make a list.

1. Going up to Jacob Lake, I met a Bounder Motorhome of indeterminate age dragging a truck for a toad. In the bed of this truck rode a semi-V Glastron boat, perhaps 16 feet long, with its nose stuck up in the air.

I kid you not. The bow rose above the back of the Bounder. Maybe 12 feet high. The transom was wedged down against the tailgate. The hull rested on a ladder rack. I don't know how they got it up there, or how they expected to launch it. But they were headed rapidly toward serious water at Lake Powell.


| | |
| --- | --- |
| 2. At Tonto National Monument, I returned from a stiff hike up to the Ruins to find an amazing old motorhome parked beside me, dragging an even more curious specialty trailer. The RV is called a Navette, and it looks like some retro vision of the "Future of Travel" you might have found in a 1955 Popular Mechanics. Probably on the same page with the personal dirigible. Very swoopy, smooth, and aerodynamic. In fact, if you ignore the road rash, it STILL looks like the future of travel, RV style. | |


I want one.


| | |
| --- | --- |
| The trailer behind it was short, enclosed, double axle, and had a large V protrusion from the center of the roof. Obviously purpose built, and containing something rigid, and shaped like the tail of a aircraft. I will offer a prize to the person who can come up with the most plausible idea of what is carried inside. | |


3. There are a series of campgrounds at Lake Roosevelt. Hundreds of sites in the middle of a Saquaro desert briefly interrupted by the reservoir. And there is no way to get fresh water into your RV except with a bucket. No faucet at the dump station. No faucet at the campsites, except for the camp host's site. No faucet for 10 miles around.

Bring a bucket.

There's no electric sites either. This is the largest all-solar campground in the US, I am told. This is not as stupid as the water situation, but I have come to prefer a site with electric hookups even when I don't need electricity. The reason is simple. In a camp with electric sites, there is no need to run a generator. There is the faint possibility of silence during sunset. But not at Roosevelt Lake. All summer long this hillside must roar and mutter and seethe under the stars even as Egypt did, on that black and fateful night the fabled Mosaic locusts descended.

4. I have gotten quite used to signs up in the Colorado forest that insist you must pull off the road at least 200 feet, or 300 feet, or some such, to camp. The distance varies, but not the insistence you better get outa sight. Up in the Tonto Forest, along the Mogollon Rim, I turned off to visit Black Bear Lake and encountered one of those official brown and white signs informing me "No Camping MORE Than 300 Feet From Road."

5. Here's another indication that Arizona marches to a different drummer. Since Congress turned over most if not all National Forest campgrounds in the mountain west to "private enterprise", the bulk of them are closed from November to May. At Tortilla Campground on Apache Lake, a sign said "Campground Closed May 1st TO November 1st".

Gotta love it. Maybe it's just too hot for summer camping here. The cliffs opposite did appear to have scorch marks.

But right now it's 72 degrees, and I'm camped at the only National Forest Campground in Arizona that has electric sites. I'm the only one here.

And I've just discovered the reason.

It seems someone has chosen this afternoon to conduct a "Prescribed Burn" nearby. It started just after I pulled in here and paid. A couple of hours ago.

Now visible smoke is beginning to curl toward me, through the tops of the pines.

Wish me luck.


Bob





Return to Around the Campfire
---
Comments are welcome in the rec.outdoors.rv-travel newsgroup,
or to bobgiddings0@yahoo.com.
© Copyright 2003-2008 Bob Giddings, All Rights Reserved
Webspace provided by Arcata Pet Supplies