Return to Speed Bumps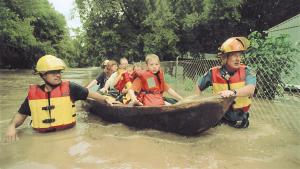 Wandering Into Retirement
It was the summer of '02.


| | |
| --- | --- |
| Over the previous 7 years, I'd managed to recover slowly from a torn knee, a badly sprained ankle, a broken neck, two heart attacks, and Sean graduating from Wake Forest. | |


At last, I was feeling like I was in pretty fair shape.

The long recession, which had decimated many a prematurely retired fireman's retirement account, seemed to be bottoming out.

And I was really bored with work. Not with the emergency stuff, just the same old gestures of working in the same place, and with much the same people, for 30 years.


| | |
| --- | --- |
| These are fine people. | |


But after that much time, just showing up for work can be a repetitive motion injury, like tennis elbow or carpal tunnel syndrome.


| | |
| --- | --- |
| "Retiree's Mindset". Think Blue Cross would cover treatment for that in, say, Tahiti? | |


Then in July my mother passed away, at 87 years. Something like that is supposed to make you think. In my case, it had the opposite effect. I just about quit thinking altogether.

What's to think about?

I'm not trying to be profound. I avoid deep water, unless I've got a pretty good boat. But it doesn't take a genius to see that when your Visa goes over 40 grand, debt becomes ludicrous. It's just way over your punkin' head.

You're never going to pay it off anyway. Have a beer. Hell, have another. Go ahead. Charge it.

And you're never going to live forever. Sometimes it's the little things that finally move us off the dime. Not grand plans, ambitious projects, wish lists and labors.

In the end, I vacationed my way right into retirement.

It all started because it was just so damn hot. So I went looking for a place to cool off. I was clear up in South Dakota before I found it, but lots of things happened on the way.

Lemme tell ya 'bout dat....







Return to Speed Bumps
---
Comments are welcome in the rec.outdoors.rv-travel newsgroup,
or to bobgiddings0@yahoo.com.
© Copyright 2003-2008 Bob Giddings, All Rights Reserved
Webspace provided by Arcata Pet Supplies