Return to Wandering Into Retirement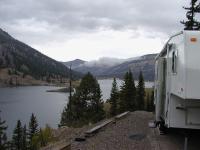 Aaahhhhh!
9/7/02



Lake City, Colorado
Saturday
9:30 pm


Tonight I dined very well indeed. Ordinarily I would have gone to see Bruno at the Crystal Lodge, a transplant from France via Corpus Christi, who is an excellent chef. But when I went by the crafts fair downtown this afternoon, I got to looking over the menu at Jon and Jona's across the street.

Let me share this meal with you. I started with a bowl of yellow pepper soup, a creamy puree accented lightly with cracked black pepper and fresh chives.

Then came an excellent house salad with dijon dressing, and the first of three glasses of Pinot Noir.

Then the entree - a succulent hunk of Salmon Morroco, seared medium rare, lightly flavored with anise and more strongly by the roasted tomato stuffing.

The side was Basil Potatoes.

All this (groan) was followed by a classic Creme Broule, garnished with raspberries, strawberries, and blackberries.

Dark roast coffee finished me off, almost literally.

A meal to remember. And I hope you will, if any of you get up here to Lake City. Alternatively, if you ski, Jona is the chef at the Hotel Telluride during the winter months. These people are charming, and give good value. My bill came to $43. I gave them $60 and considered it money well spent.

A pointless generosity, perhaps, especially since my waiter was Jon himself, but it is a small sin, for which I will happily pay in purgatory.

Lake City is a beating heart in the summer months, pumping Texans instead of blood. But it never seems particularly overcrowded to me, unlike Durango, say, or Ouray. It is a fishing and camping crowd, spread out on the streams and in the mountains. I am surprised it can support over a period of years two very good upscale restaurants, along with the usual assortment of catfish, mexican food, and burger venues.

I am very pleased to be surprised. Thirty years ago, the most you could expect here was a decent steak, and that was problematic.

The entire meal was flavored considerably by a dramatic thunderstorm that shook the front windows while the rain poured. It is the first rain since spring, they say, and I hope a harbinger of things to come. Lake City has at least a decade of drinking water in Lake San Cristobal, but the great cottonwoods that line the streets are suffering.

Tomorrow is Sunday, and I must begin to make my way toward Chama, and thence "home". They say the Rio Grande is a mere trickle south of Creede.

I hope they are wrong.


Bob


BTW, these last few letters have been brought to you via the only Internet Phone Booth in the known universe. Cell Phones are useless up here, but at the Phillips 66 station in town, they ripped out the old pay phone and replaced it with a wall phone sporting a spare jack for the enterprising laptop owner. There is a small desk and a stool. All calls are 35 cents, payable inside. I used my Bigzoo calling card account to surf the web a bit this afternoon for the first time this trip. Maybe this will catch on.





Return to Around the Campfire
---
Comments are welcome in the rec.outdoors.rv-travel newsgroup,
or to bobgiddings0@yahoo.com.
© Copyright 2003-2008 Bob Giddings, All Rights Reserved
Webspace provided by Arcata Pet Supplies