2004 Blue Bird Wanderlodge M380
For Sale $86,500

SOLD!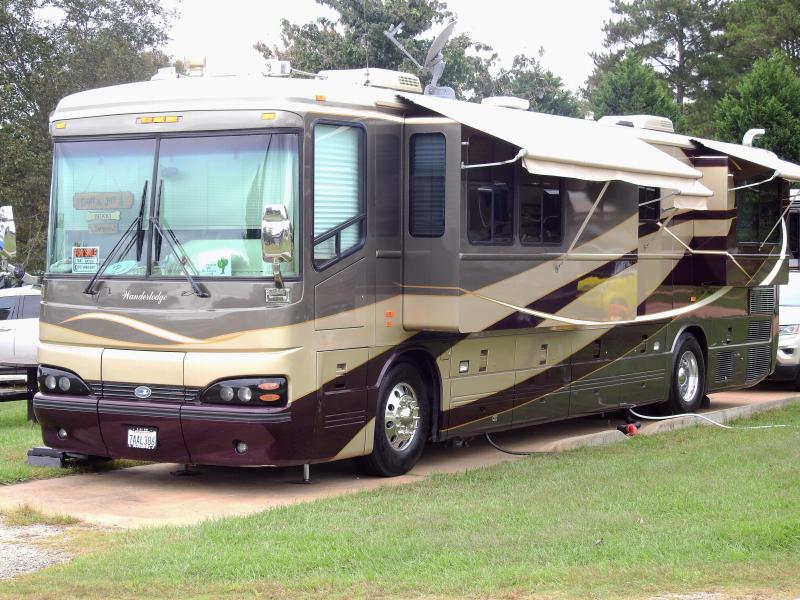 Lots more pictures below the text.

After 16 years, 49 states, and 8 provinces we are hanging up our keys, and our M380 is for sale, $89,000. The coach is empty and ready to go. Full fuel tank.

First the standard, factory stuff:
This is a 2004 38-foot double-slide Blue Bird Wanderlodge
Aluminum-skinned and roofed, on 1x2 stainless ribs.
400HP Cummins 8.9L ISL with 2-stage jake brake, 93280 miles
Allison World 6-speed transmission
The slides have inflatable air bladder seals
12kW Powertech generator with 1037 hours
Independent front suspension with air disc brakes
Hurricane diesel hydronic heat; radiators also heated by engine on the road
2 air conditioners with heat pumps
2 1000-watt electric toe heaters
Bose sound system with subwoofer
Electric shades plus venetian blinds at windshield
Day-night blinds on all other windows
Air powered slide covers step
Screen door
Electric step
Powered Girard main awning
Zip Dee awnings on all other windows
12V amd 110V auxiliary air pumps
Musical Horn with 100 songs
Color backup camera/monitor
Pilot and Co-pilot chairs include power lumbar and heat
Euro Lounger with stool
Couch jacknifes into day bed
2-burner propane stove
Dometic NDR1292 side-by-side gas/electric refrigerator/freezer with icemaker
Sharp Carousel Microwave/Convection oven
Splendide 2100 vented washer/dryer
145 gallon diesel tank
100 gallon freshwater tank
60 gallons each black and grey
30 gallon propane tank

Things that have been added,changed, or upgraded
Ball joint boots, top and bottom, replaced 2016. Zerk fittings in bottom ball joints 2013. Both are "must do" items for M380 owners to protect the ball joints.
11-gallon electric water heater added, including engine heat lines.
SeeLevel II tank monitor for accurate fresh/grey/black/propane levels.
JoBox sliding tool tray added under water tank.
Inverter changed to Xantrex SW3012 3000-watt Pure Sine Wave with highly programmable auto-gen-start
Custom 4-inch hitch riser
Silverleaf VMSpc. Includes Lenovo Flex netbook we use for it and Street Atlas mapping.
Winegard Travler DirecTV HD automatic satellite dish
Tire pressure monitor included with multiple extra sensors.
Gauge added to dash to show both Aux Air and Slide Air pressures
Muffler changed to Stainless Steel Magnaflow
50 puck lights in ceiling changed to LED
Headlights converted to LED, with both beams converted to on when using High
Air Force One air braking system installed on coach. Tow vehicle portion included (used).
Roadmaster Sterling towbar included if wanted
Adco tire covers
25-foot 50-amp extension cord

Tires replaced 1/28/17 Michelin XZA2 Energy. Steer tires 315/80 dated 4816, Drive tires 295/80 with varying dates 3016 and newer.
One drive tire replaced by road service after hitting a hazard in Texas on 10/30/2018. Tire is 295/80 Toyo M144A dated 4516
4D AGM house batteries (3) new in November 2015, excellent condition
Start batteries 1 new in 2014, 1 new in 2015
Engine service and chassis lube performed 11/4/18 at 92125 miles.

Located in Eureka, California

Non-smoking during our ownership but traveled with dog and cat

This sale is being brokered by Randy Dupree at BuyByeBluebird.com. Call him at (352) 538-3435 for purchase inquiries. You are welcome to e-mail me at the link on the bottom of the page with any questions.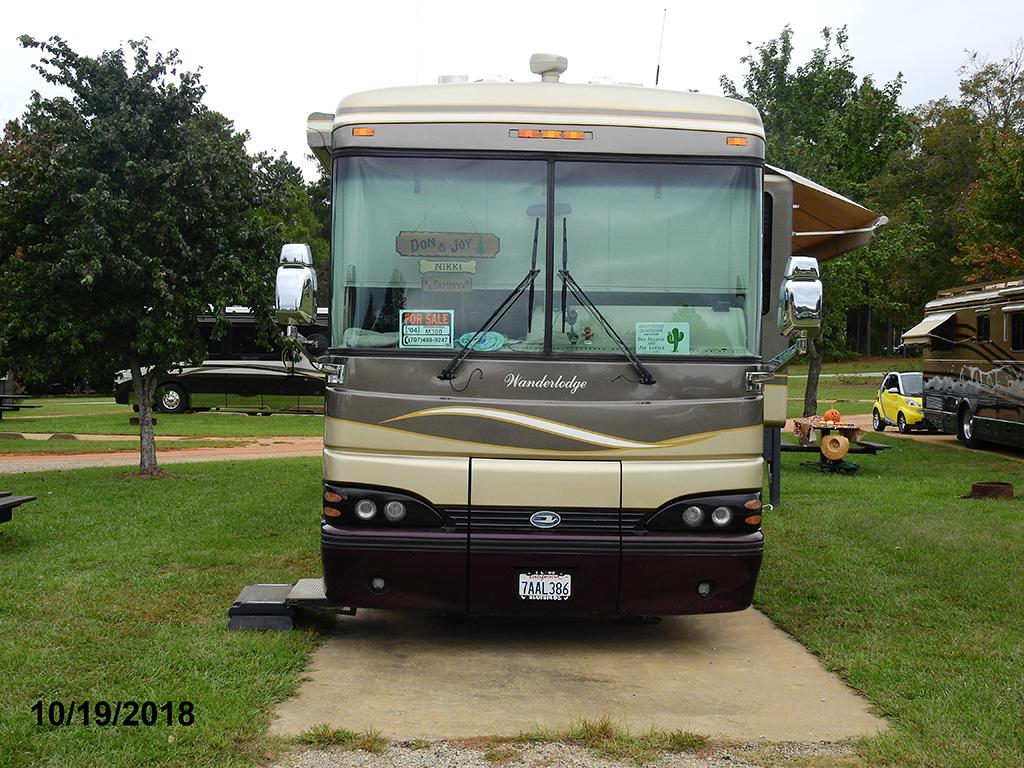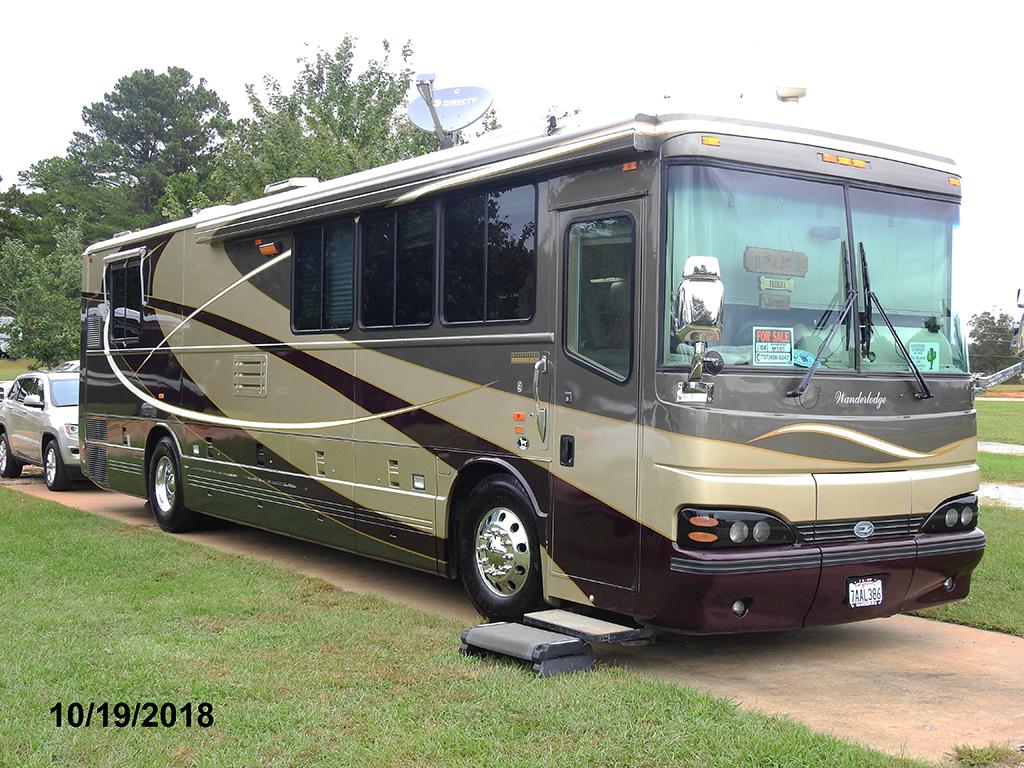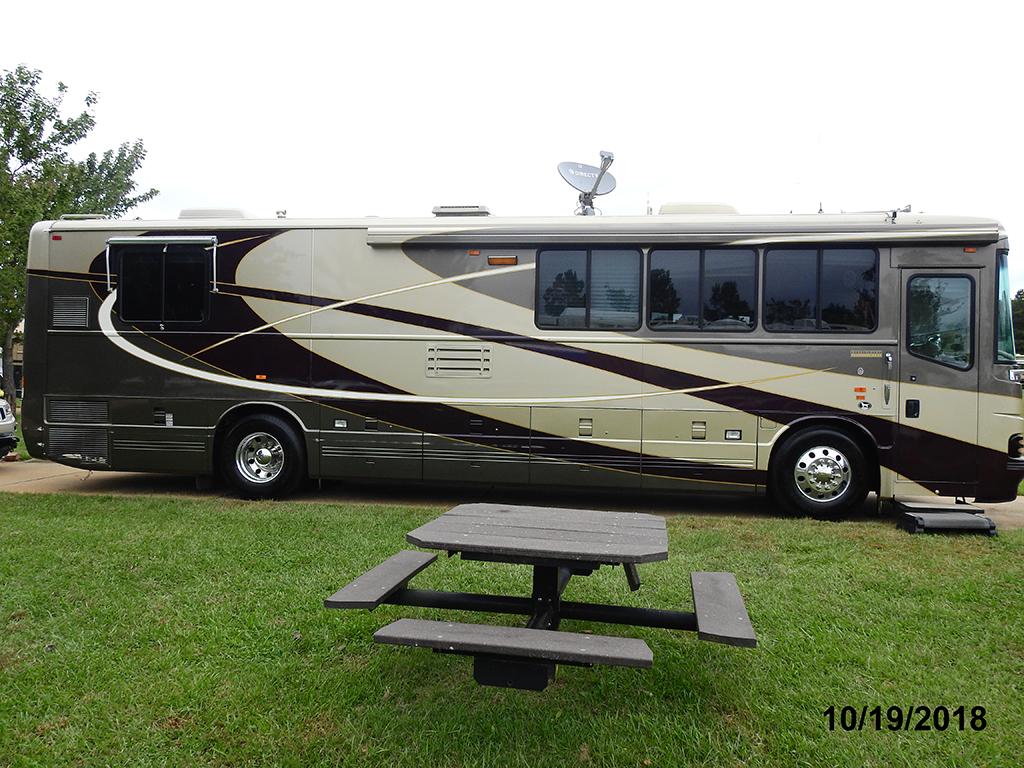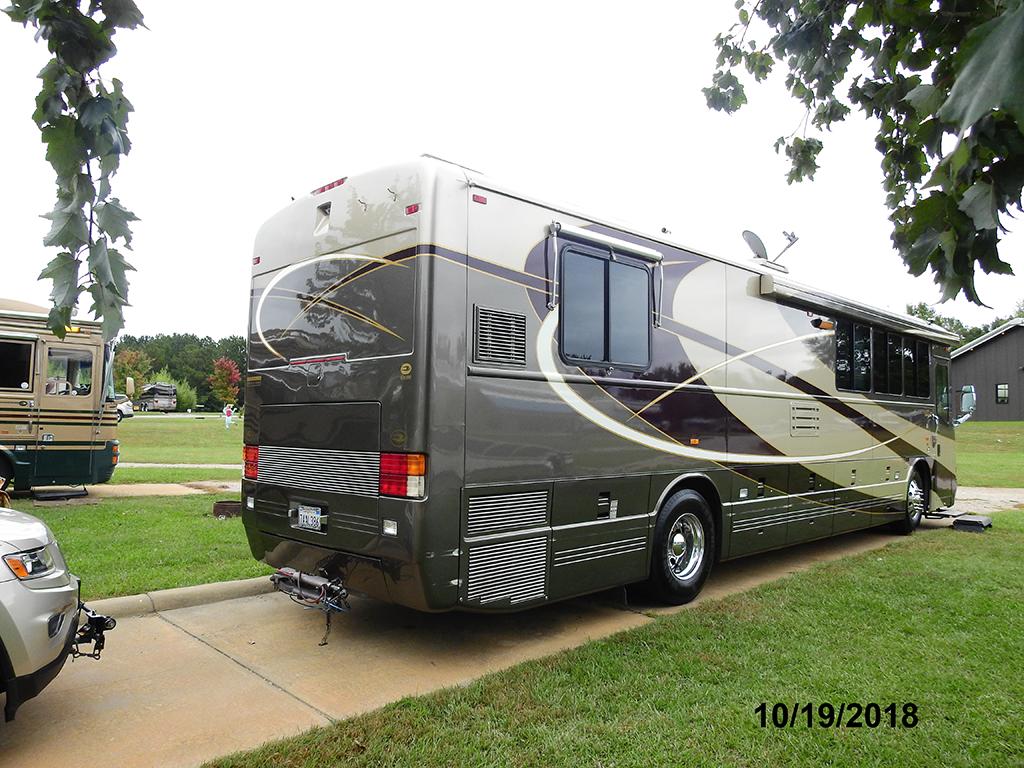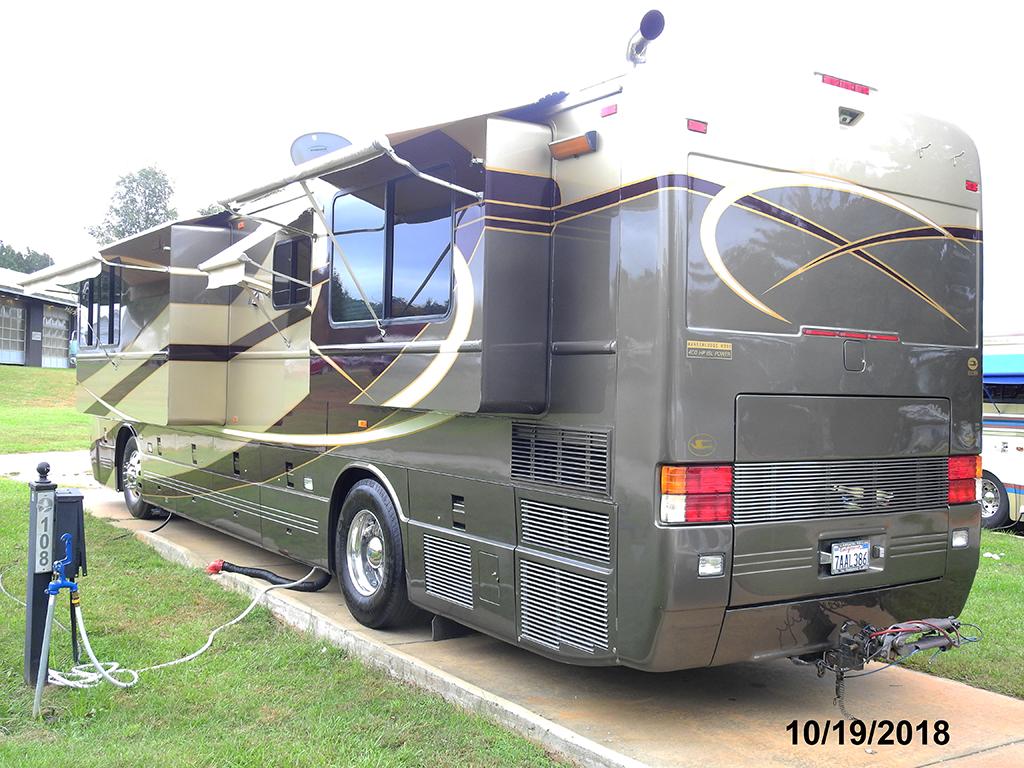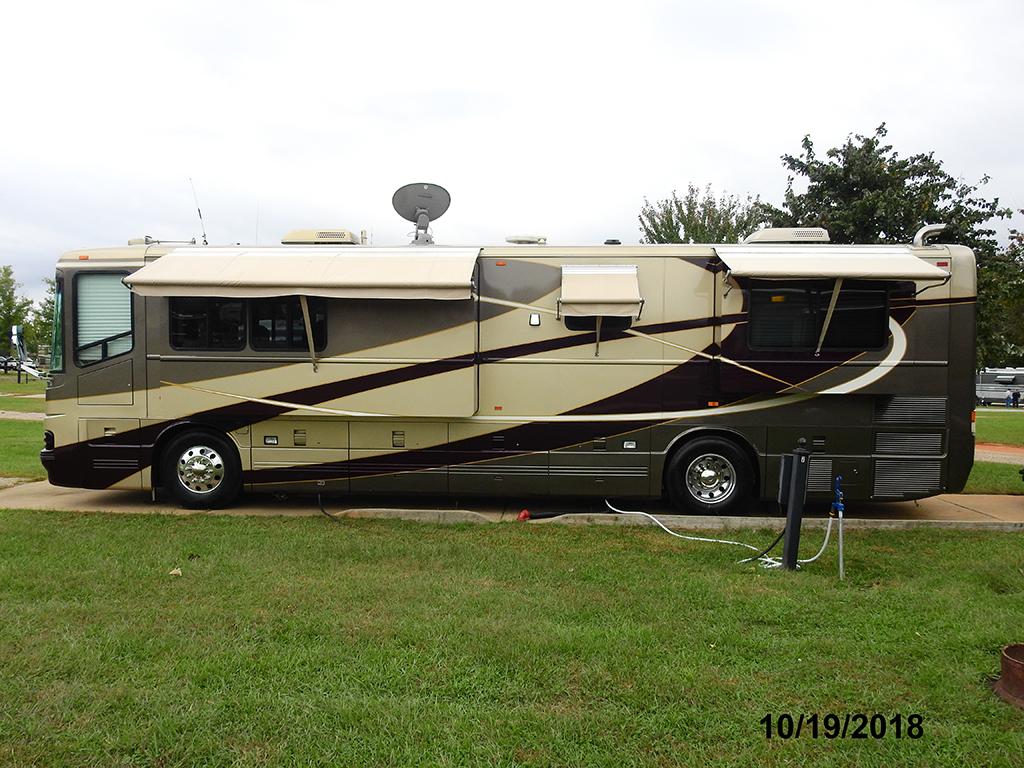 One addition is the tire pressure monitor at the top left.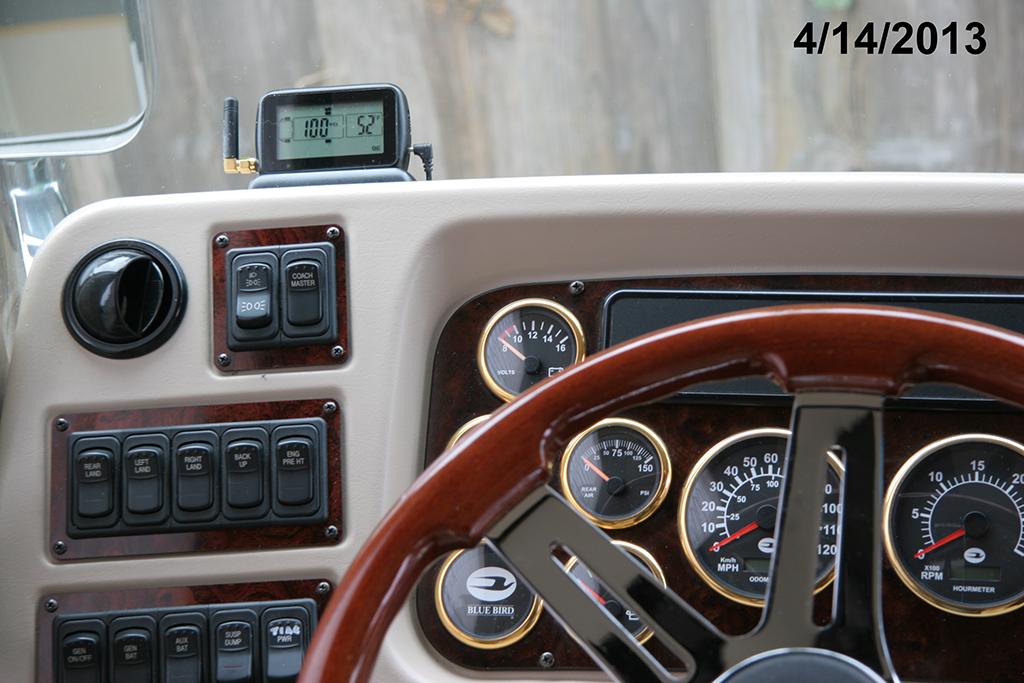 The coach came with a 37-inch Plasma monitor, below. Sounds nice, but very heavy, no receiver, and not full HD. Replaced with a 40-inch Samsung Smart TV, with a soundbar below it.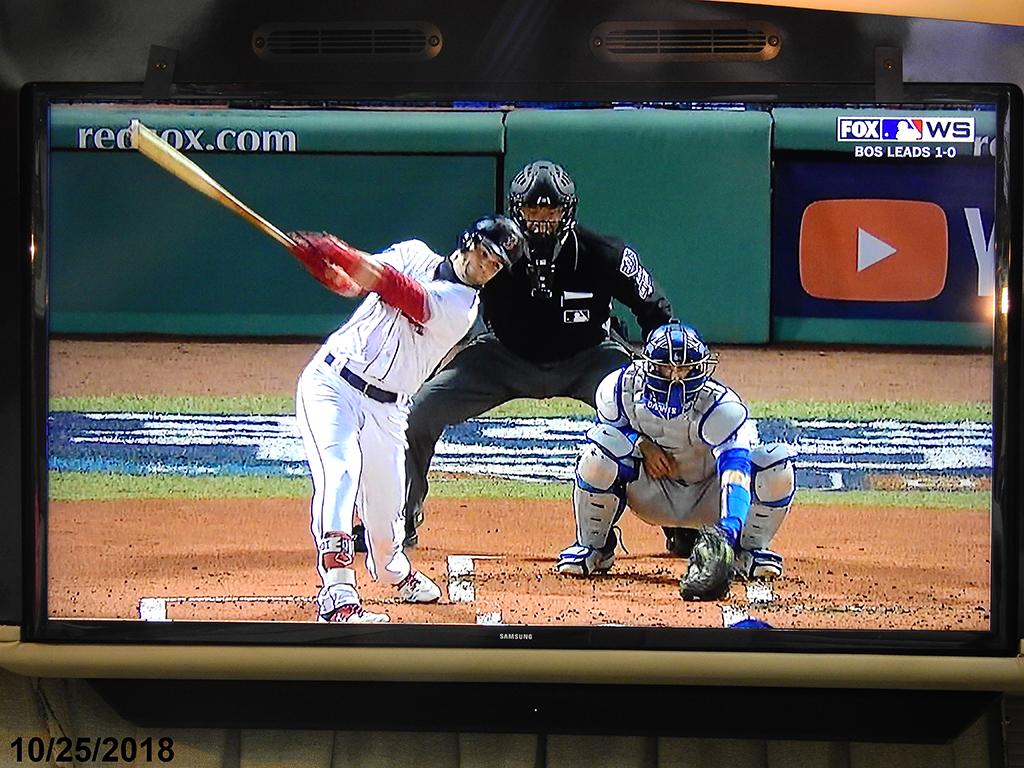 For better operation of the electronics the orignal Trace modified sine-wave inverter was replaced with a Xantrex SW3012 3000-watt pure sine-waver inverter, including an auto gen-start module.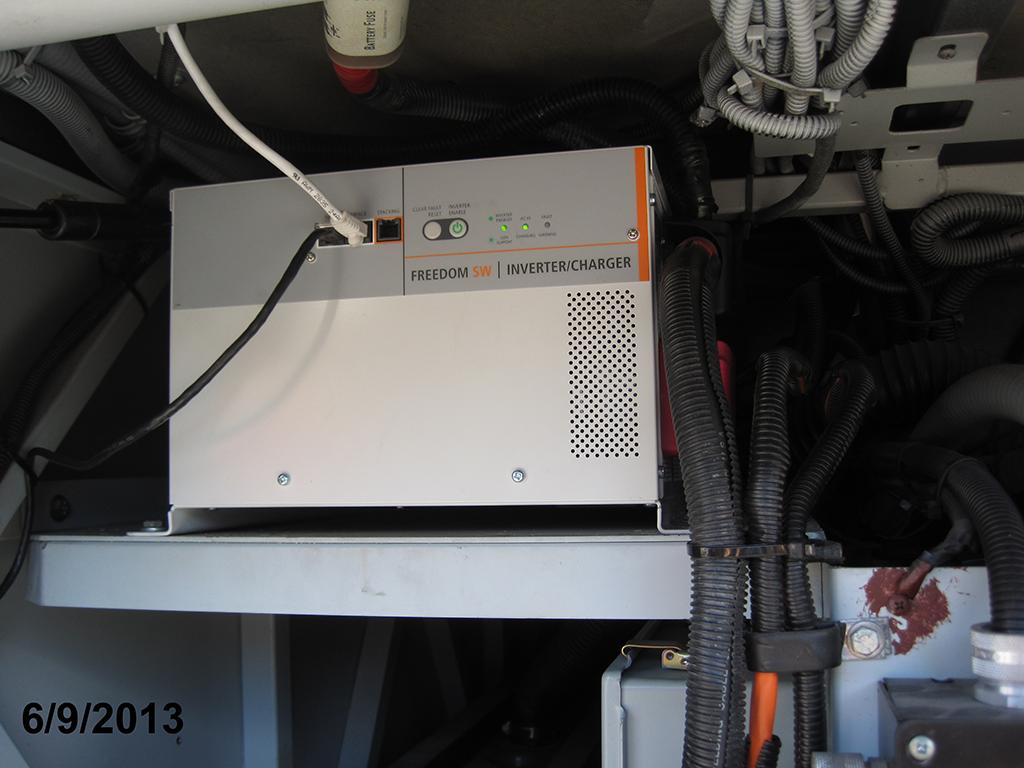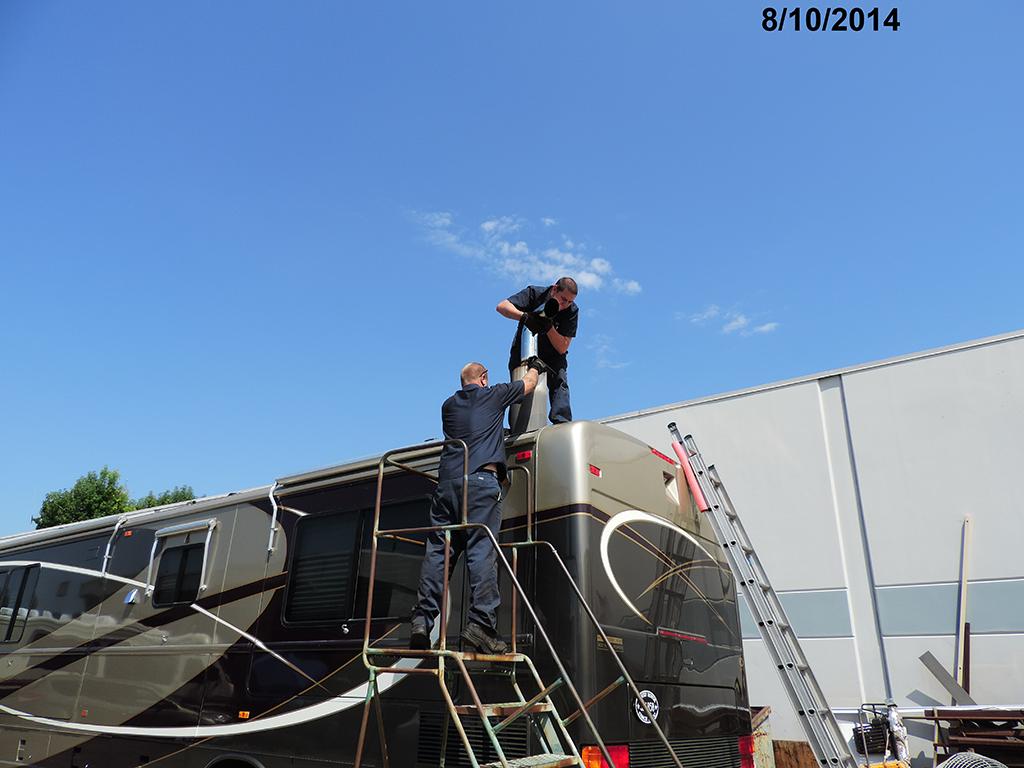 Most Blue Birds beginning in 1991 have their exhaust through the roof, like a city bus. This has good and bad points, with the bad mainly being the risk of fire. This is higher in an M380 than in other models because the space around the muffler is minimal. We followed other M380 owners in having our muffler replaced with a smaller-diameter stainless-steel Magnaflow unit. This was done at Redlands Truck and RV, in Redlands, CA.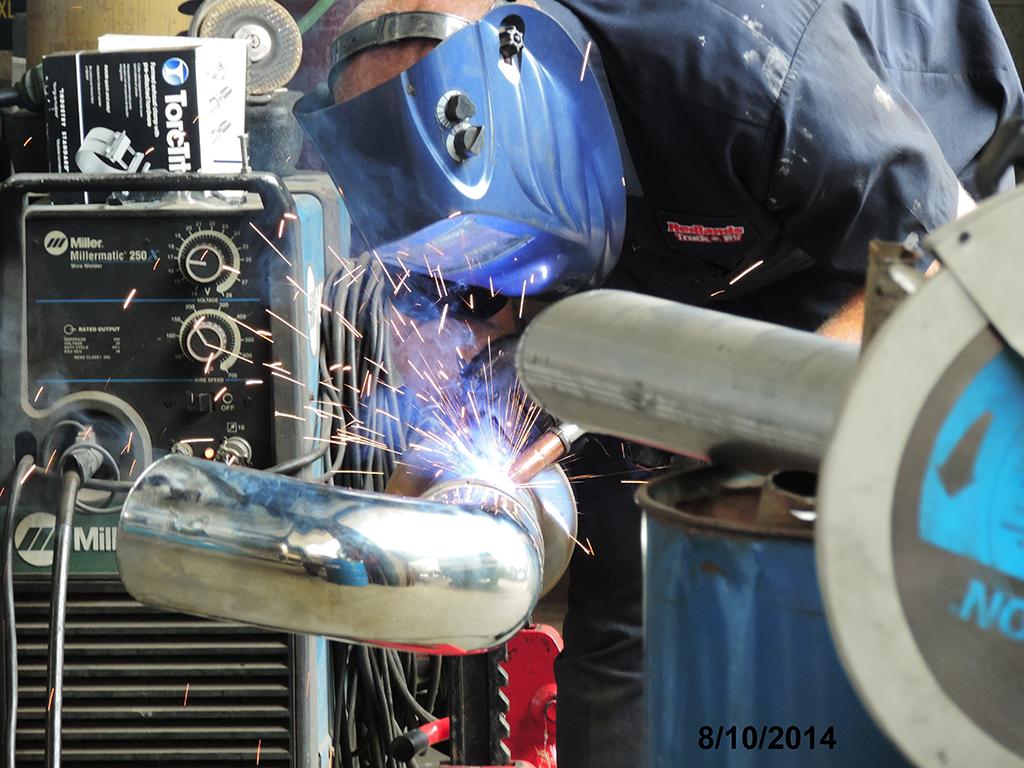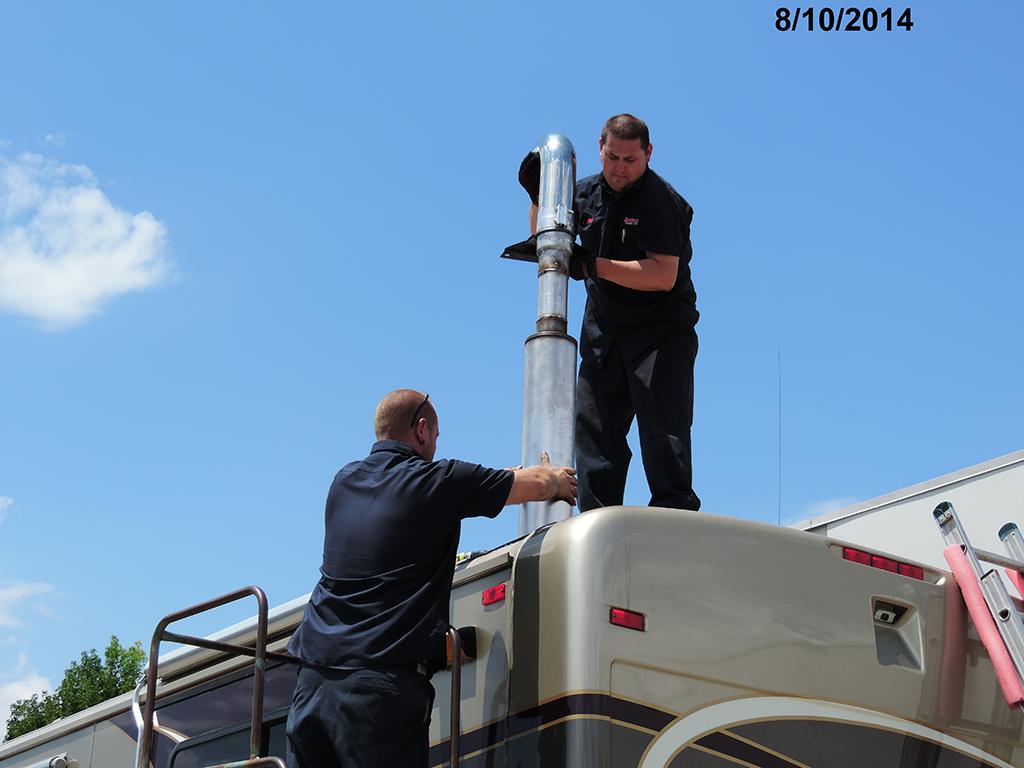 A short video of the coach with the new muffler. A little louder, but not a lot.


The M380 uses a diesel boiler both for inside radiators and for hot water. This is somewhat of a pain, particularly if we are plugged into AC power, so I installed an 11-gallon electric water heater next to the water tank. Either it or the diesel can be used.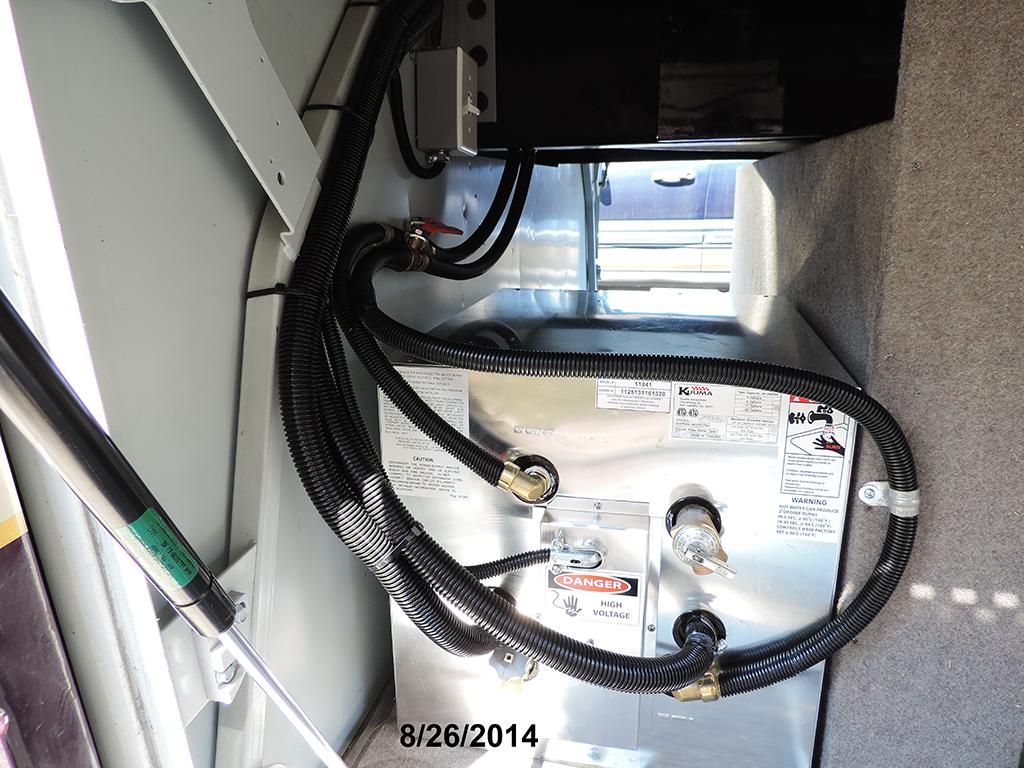 Unused space in a motorhome is a waste. The water tank sits on a platform, with open space below the platform. Combining a couple of ideas used by other M380 owners I installed a JoBox aluminum tool tray in that space.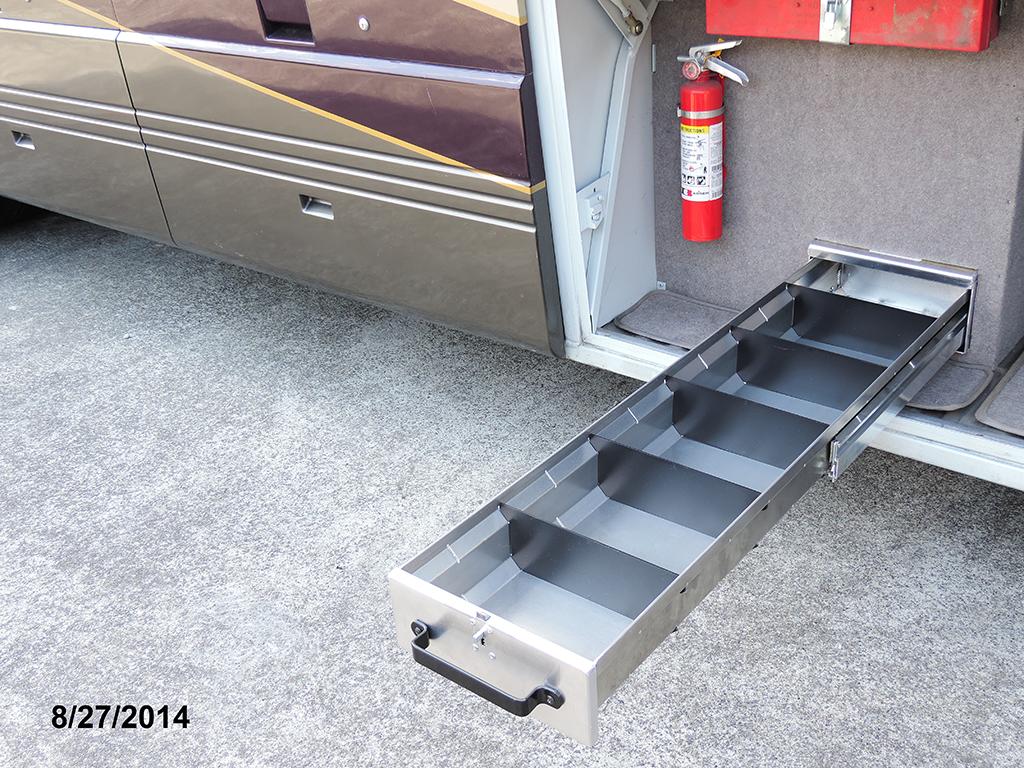 Conventional tank sensors are usually inaccurate and foul easily, so a See Level II system was installed. The display is located below the kitchen pantry, as seen at right.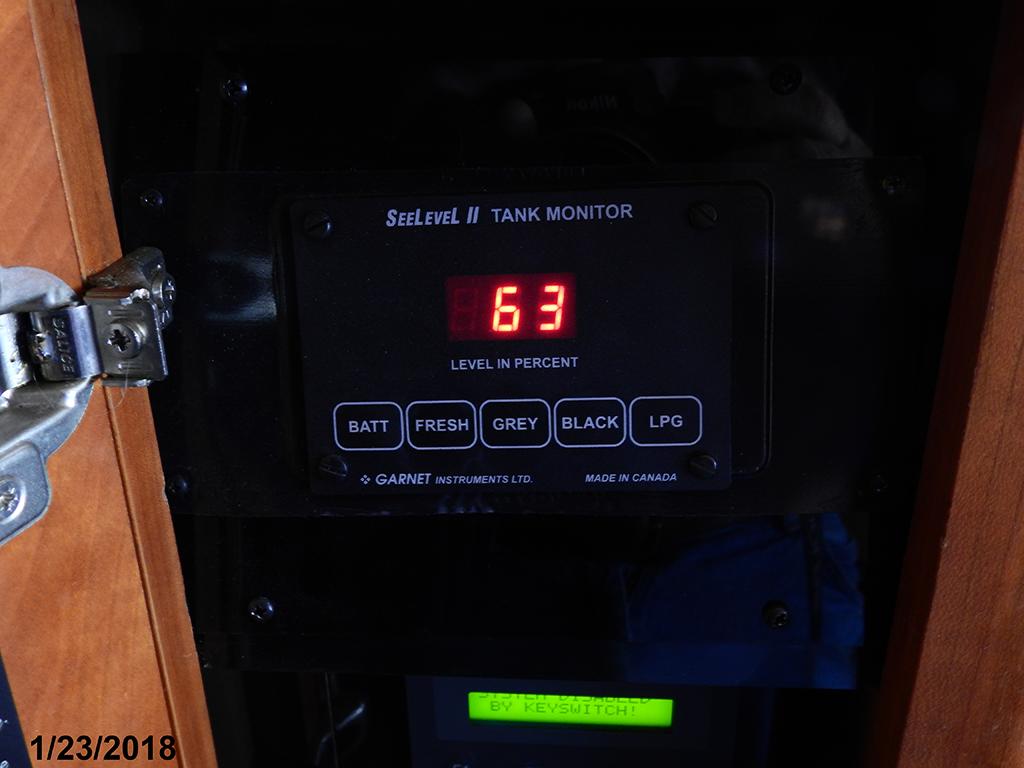 Installed an in-sink soap dispenser, left, and a drinking water dispenser, right. The center tap is an instahot, which was stock in the M380. The drinking water dispenser is connected to a Culligan RC-EZ4 water purification filter below the sink.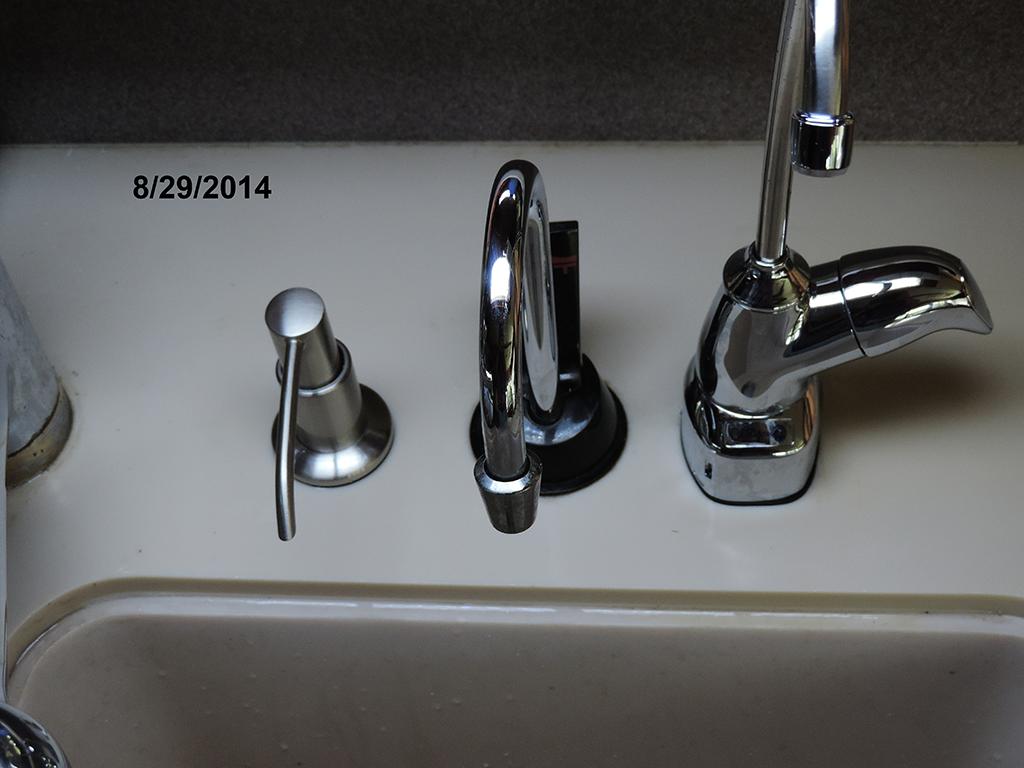 In November of 2017 I replaced the pitiful stock headlight bulbs with LEDs. I also figured out how to make the low beams continue to operate when high beams are on. The next picture was taken at Quartzsite to show the coverage with all lights on.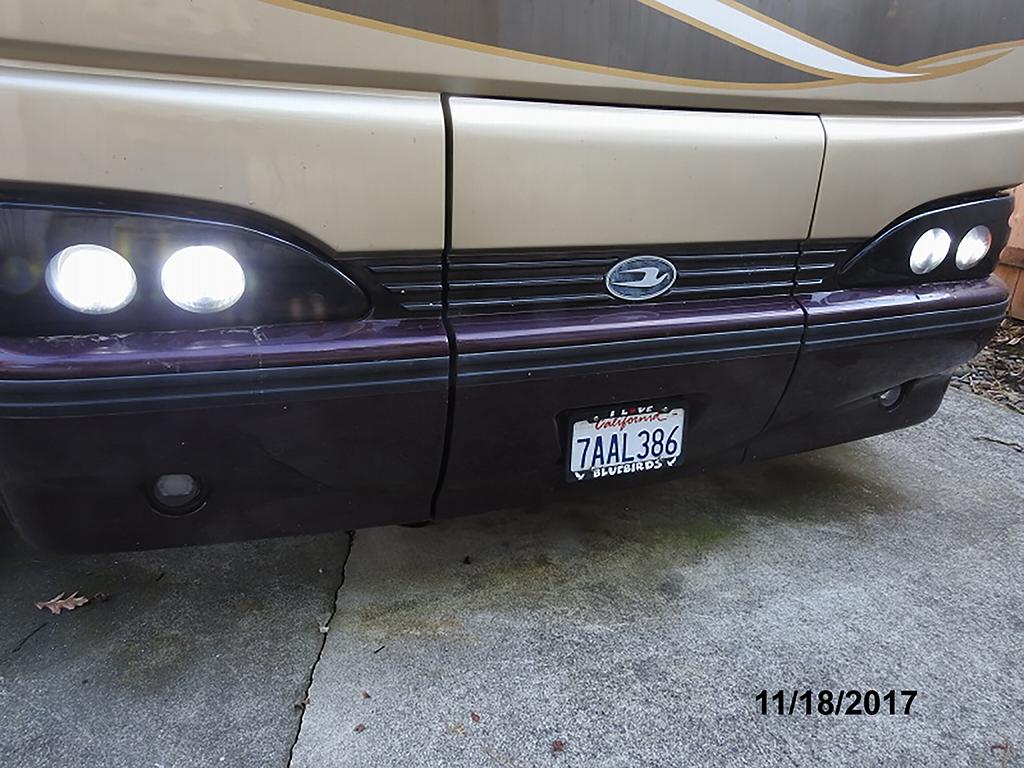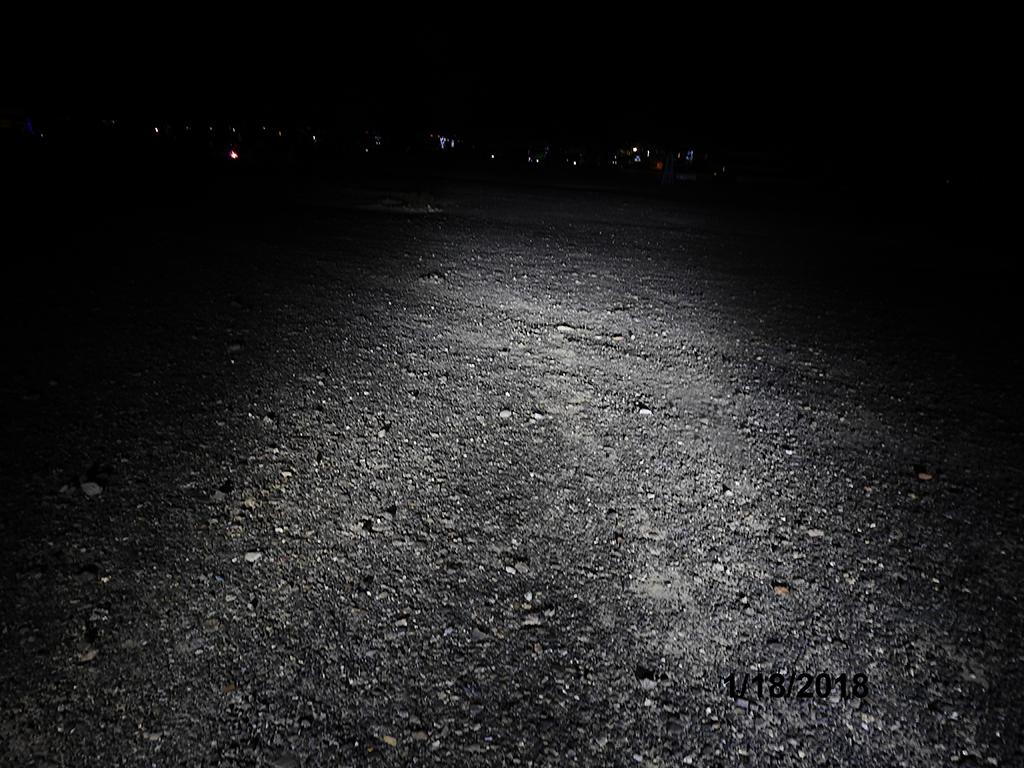 Interior bullet light bulbs were replaced with LEDs also. Much brighter.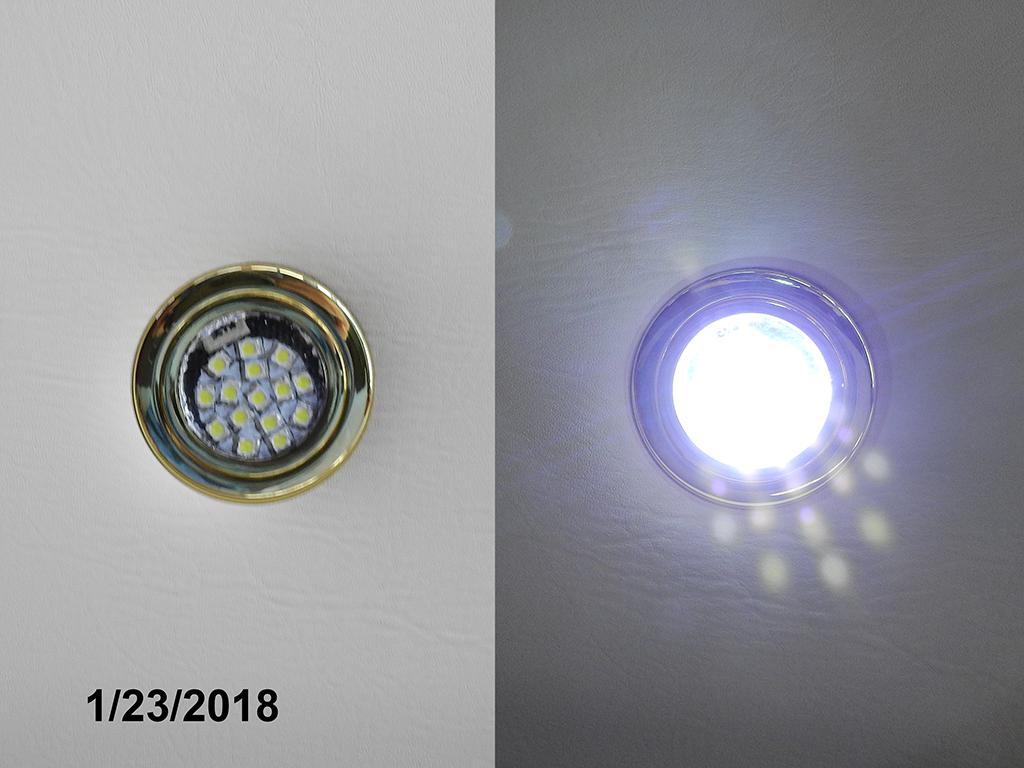 Floorplan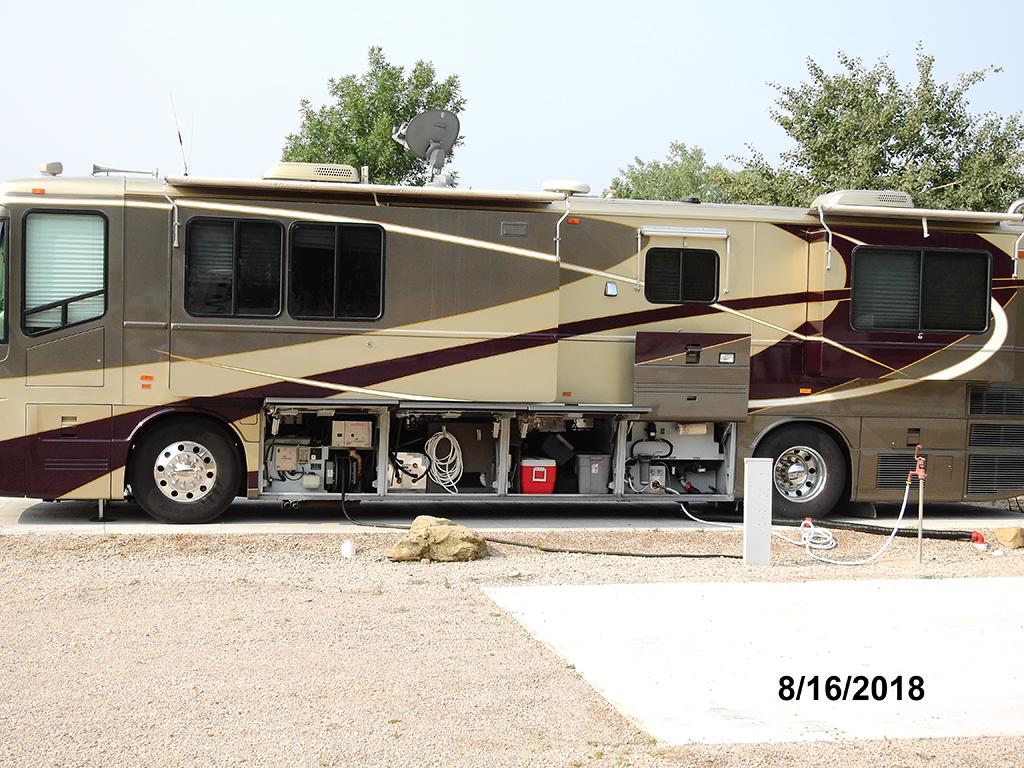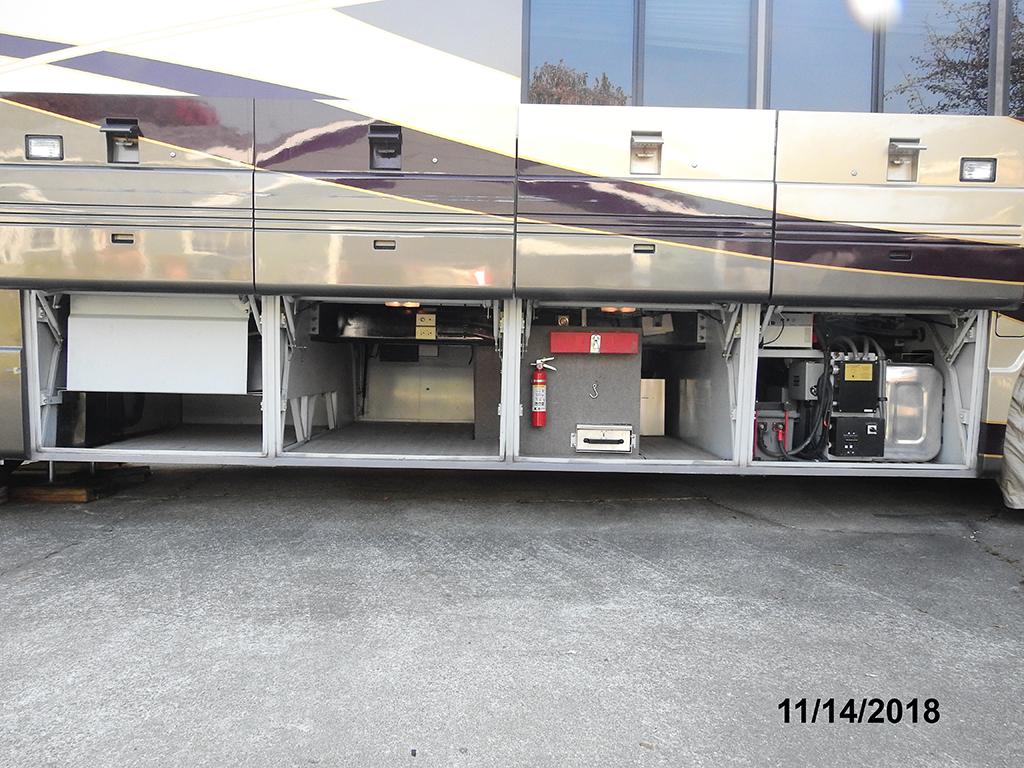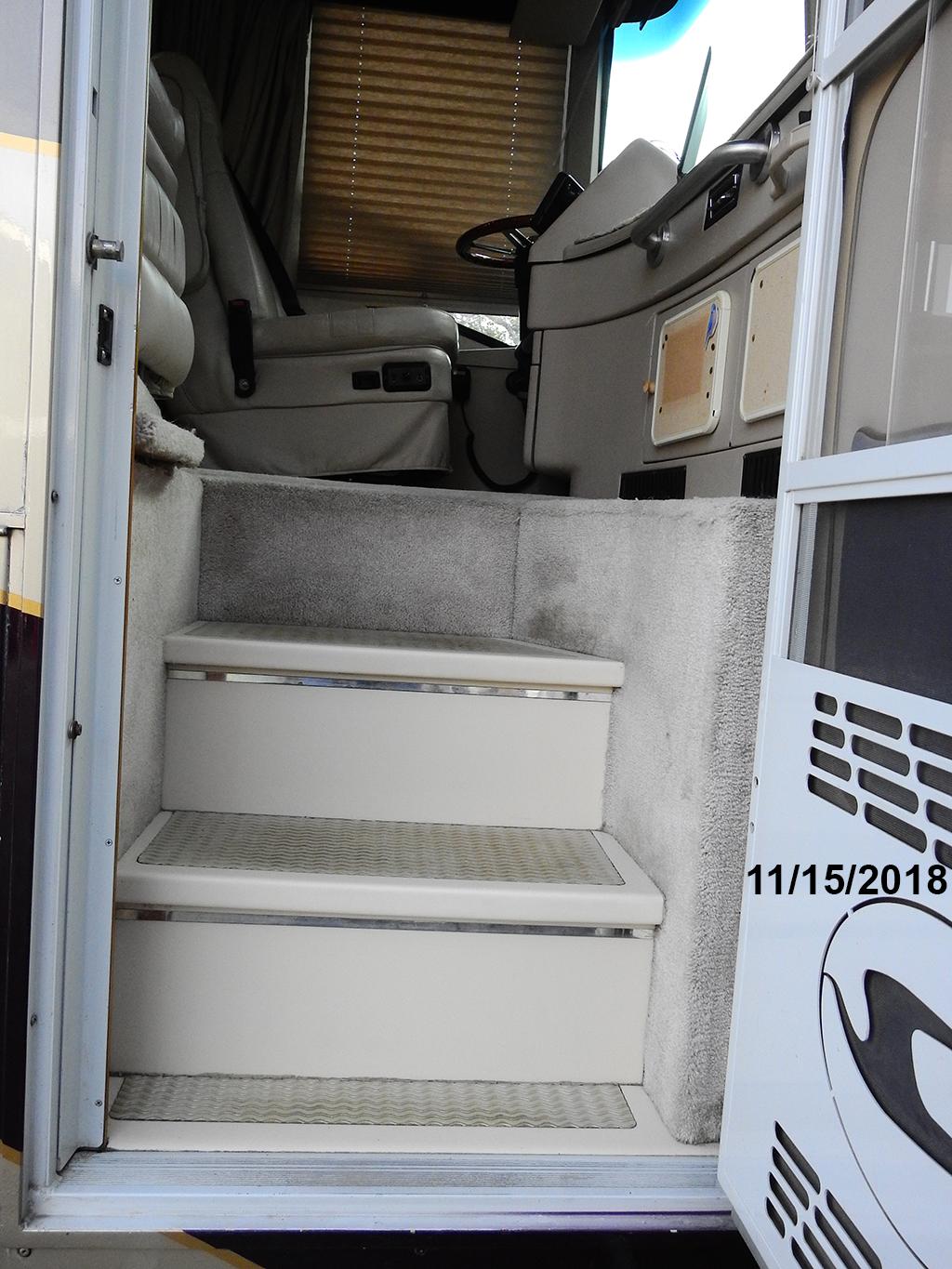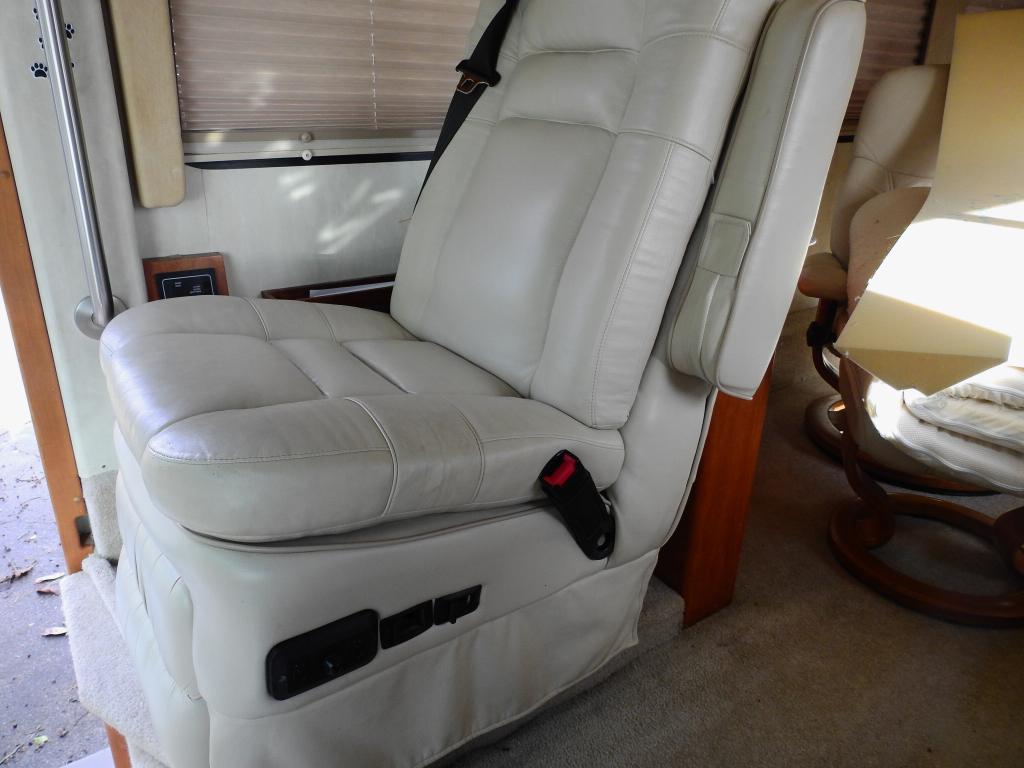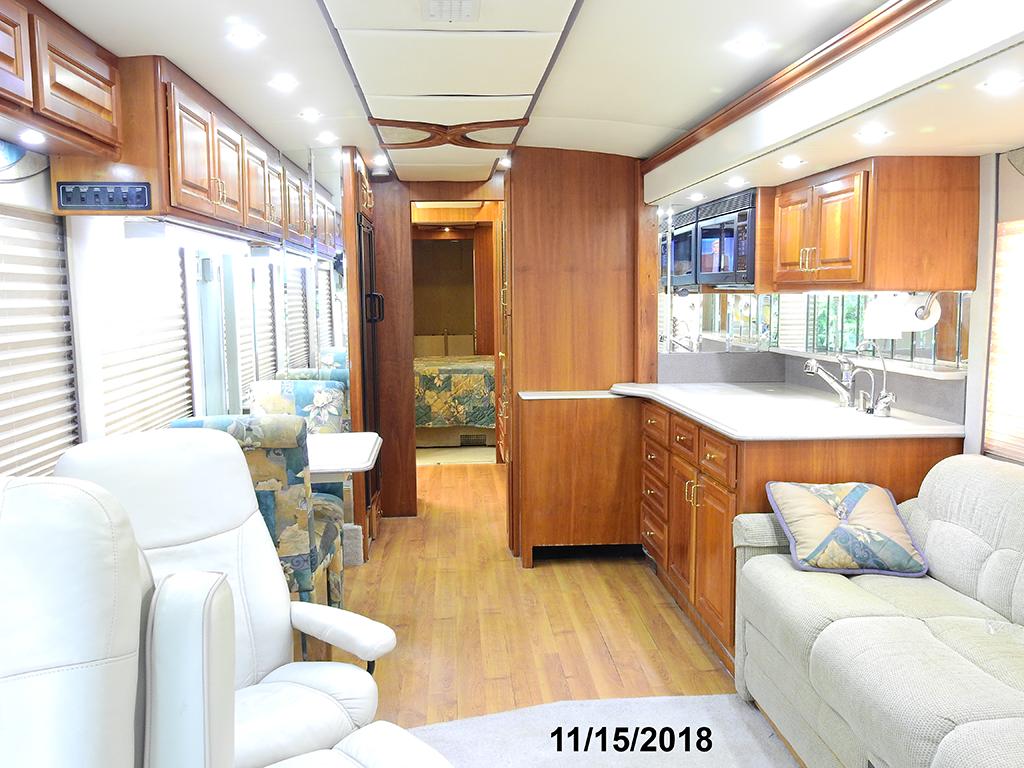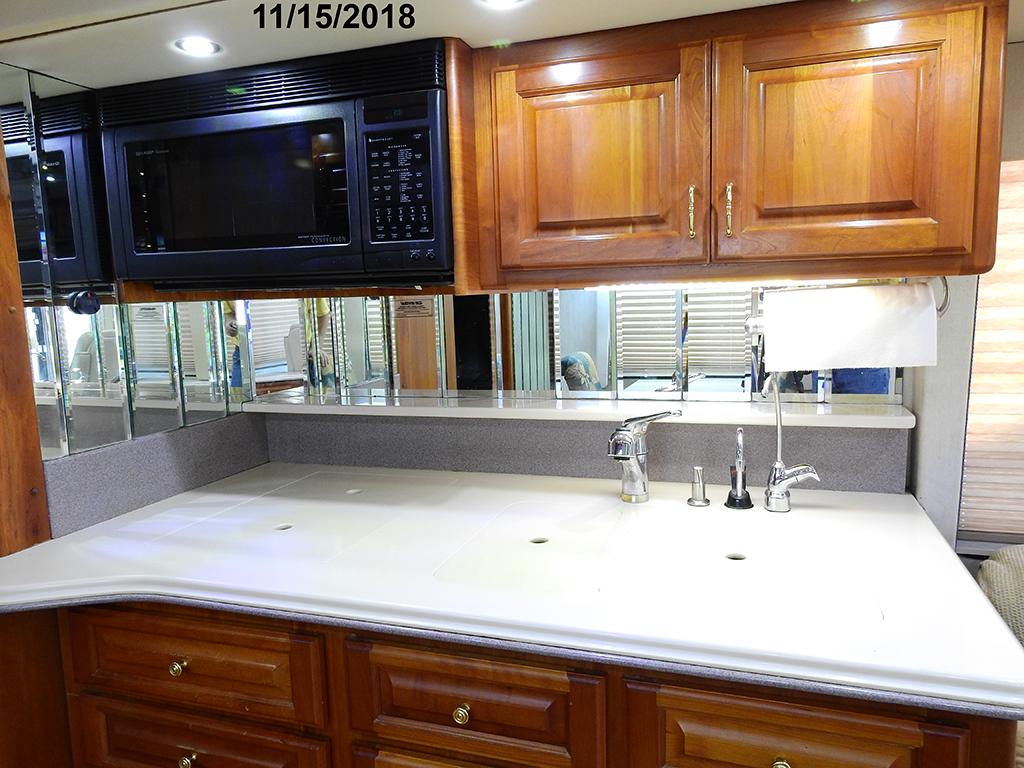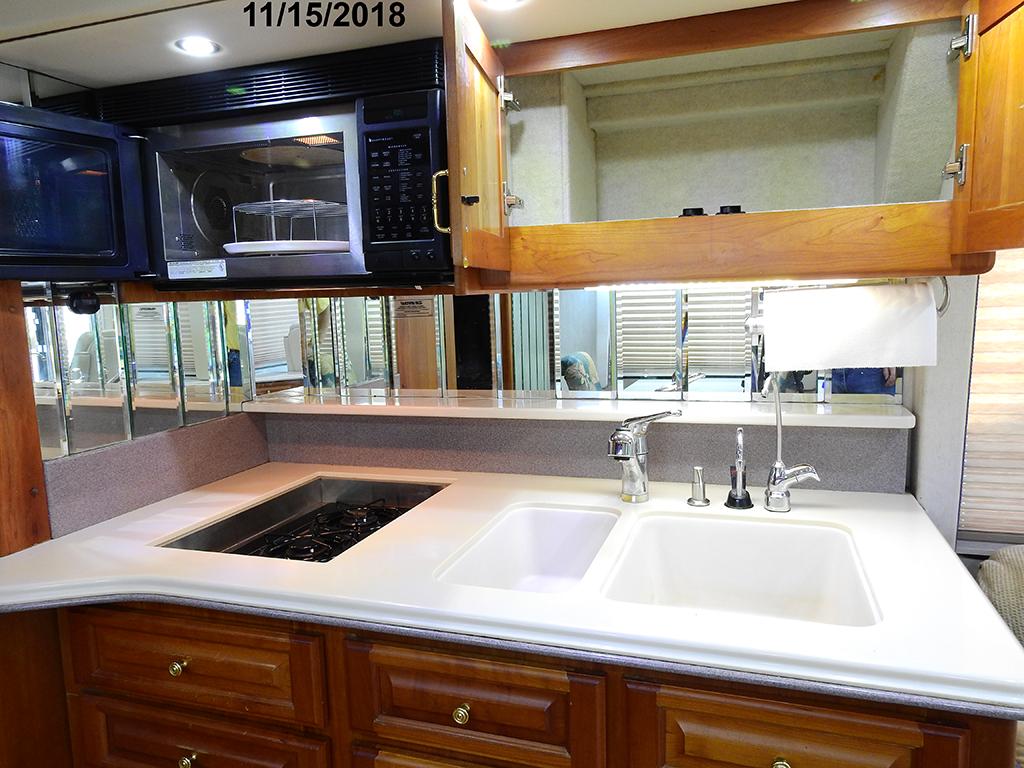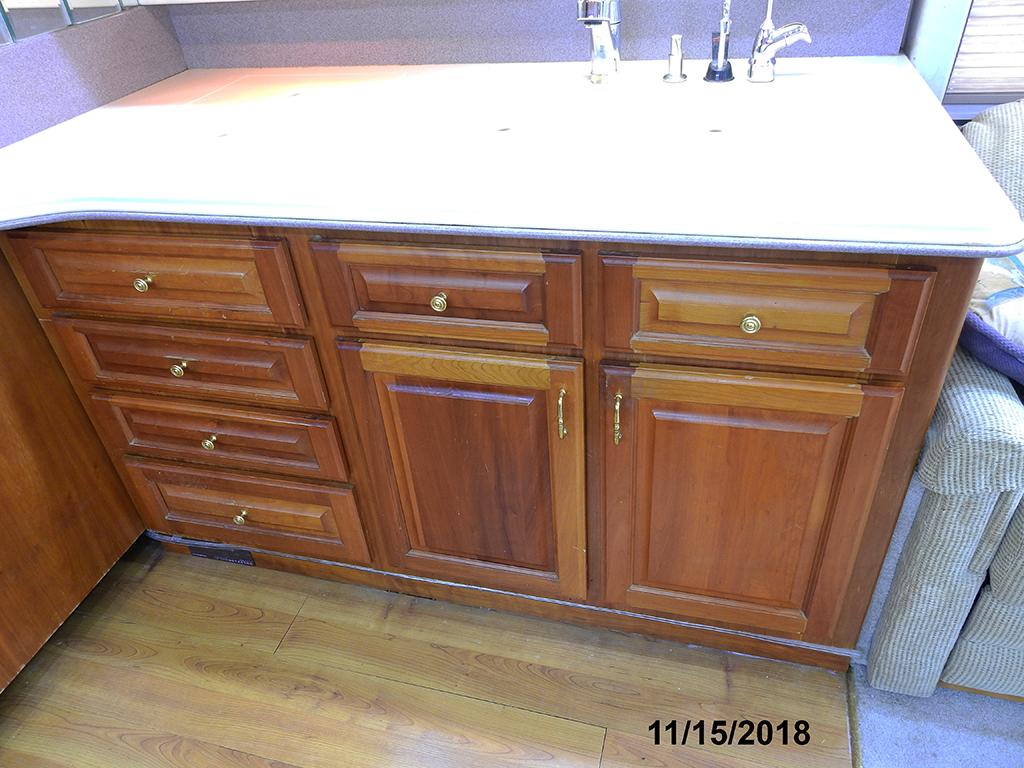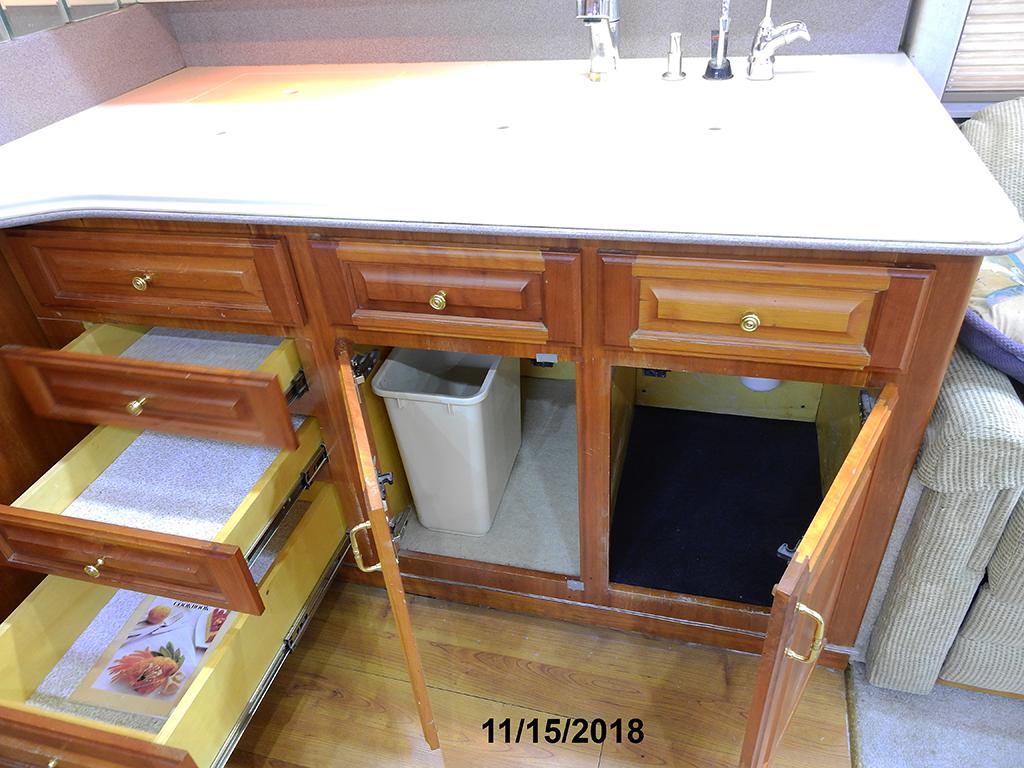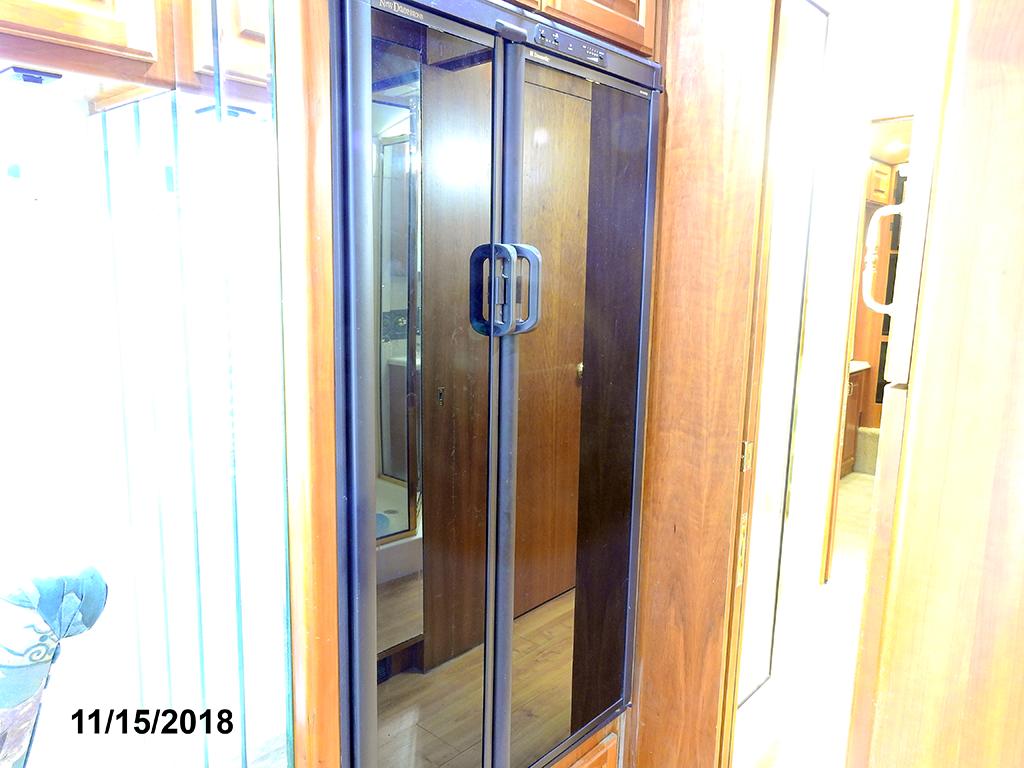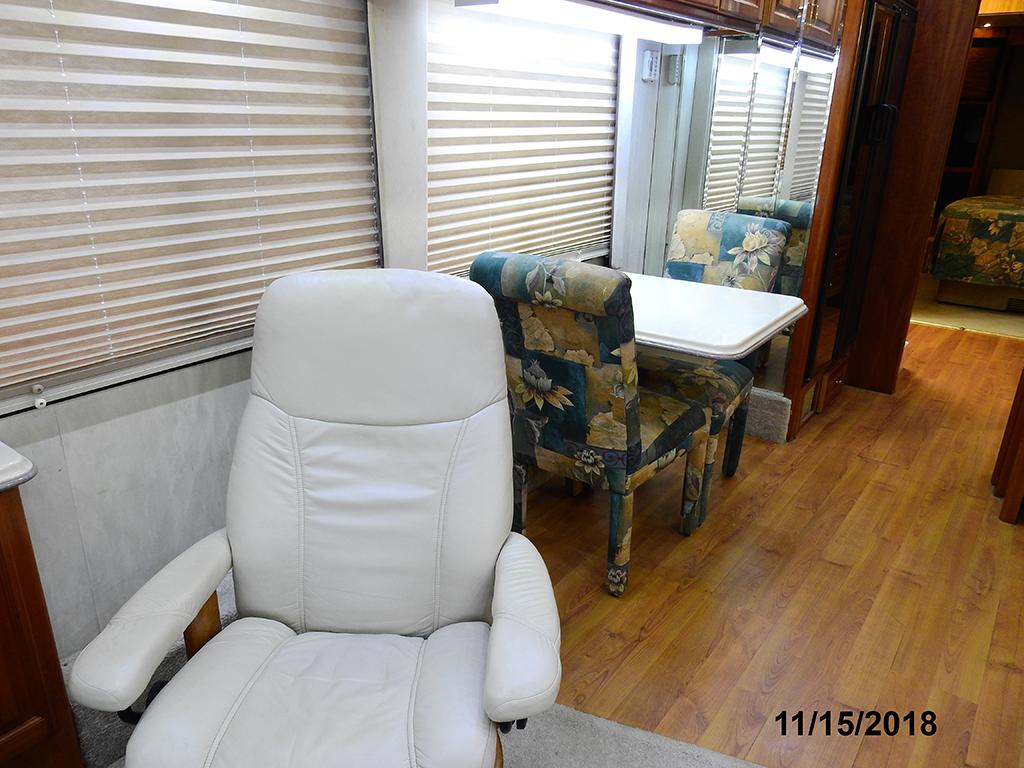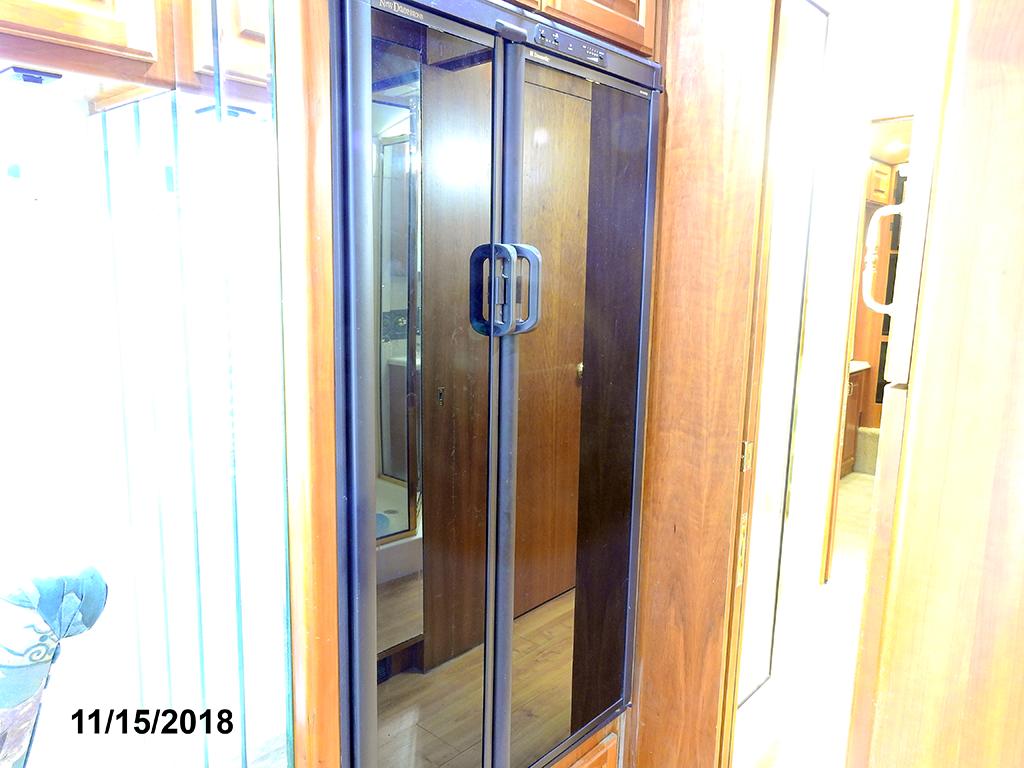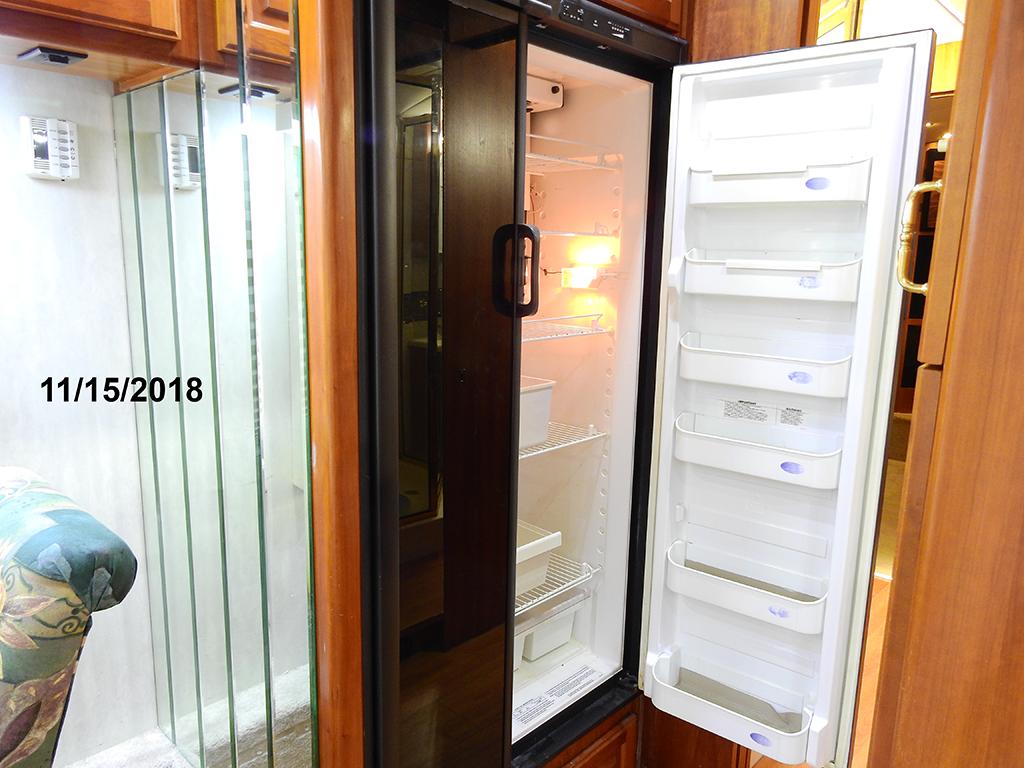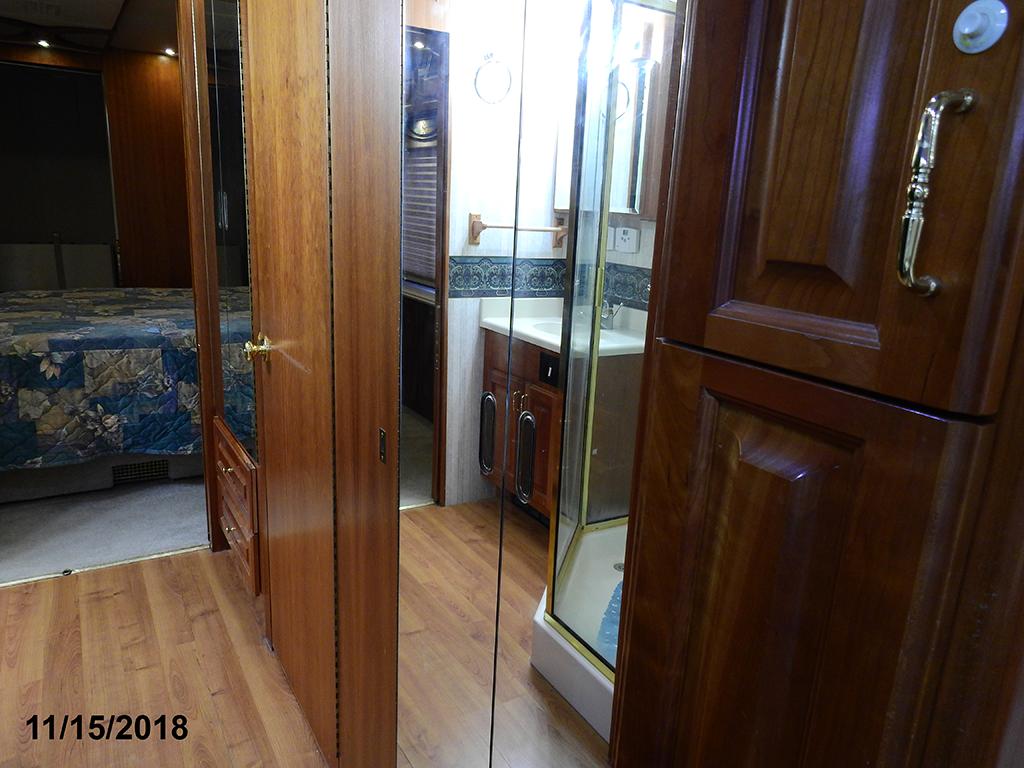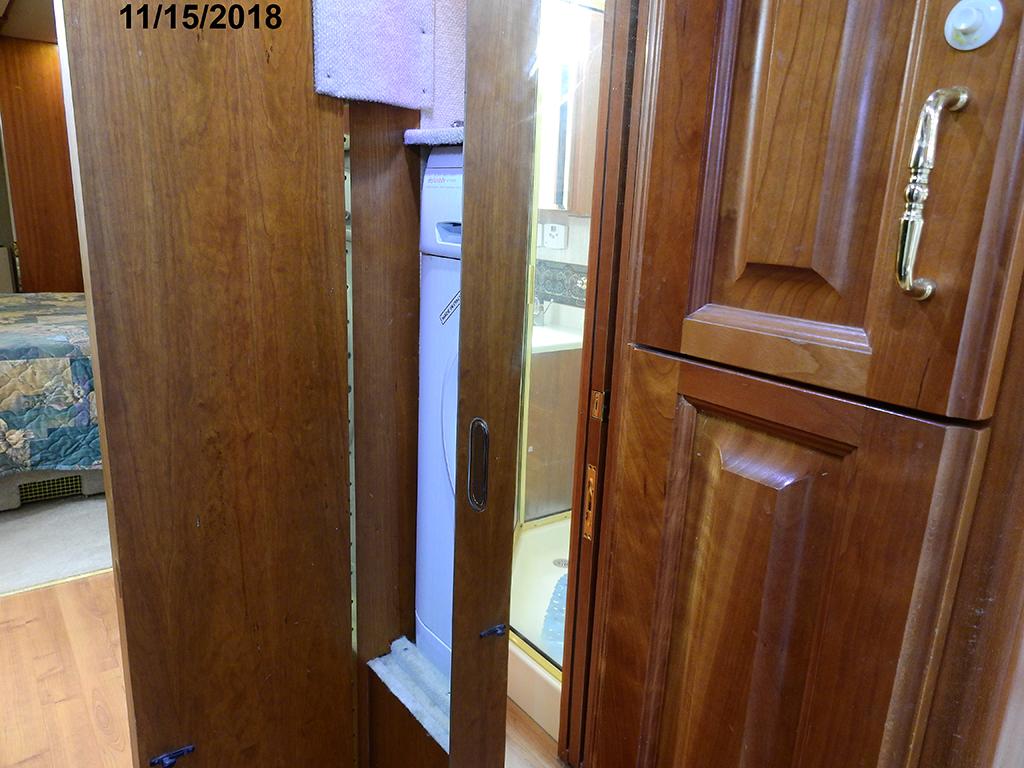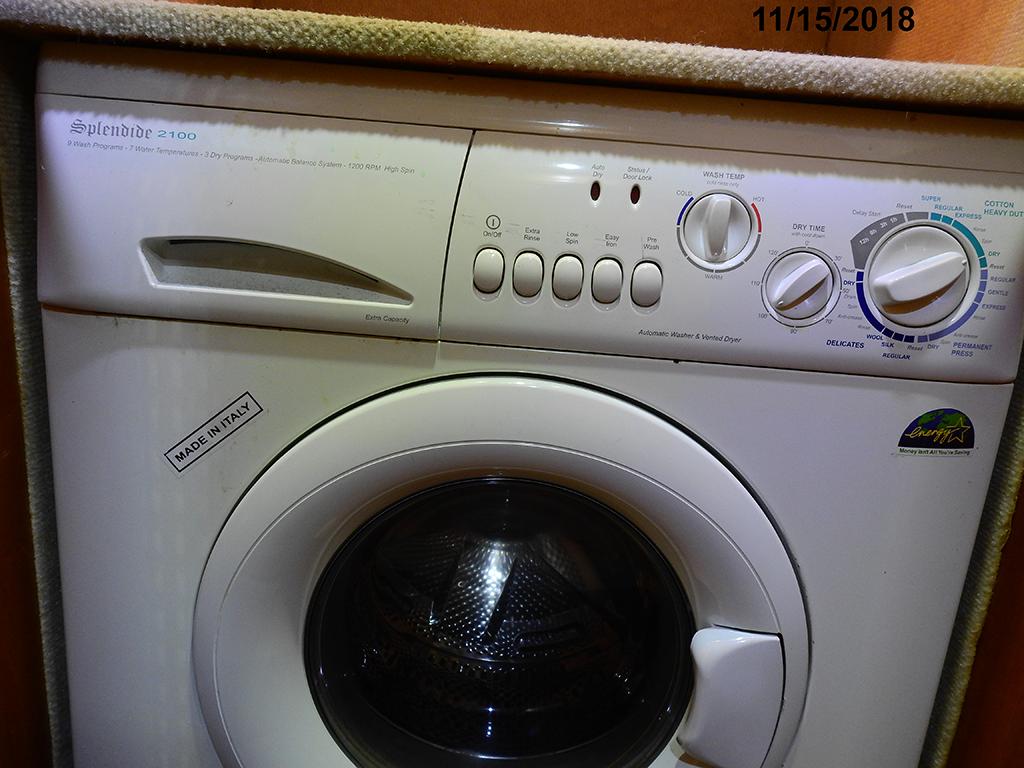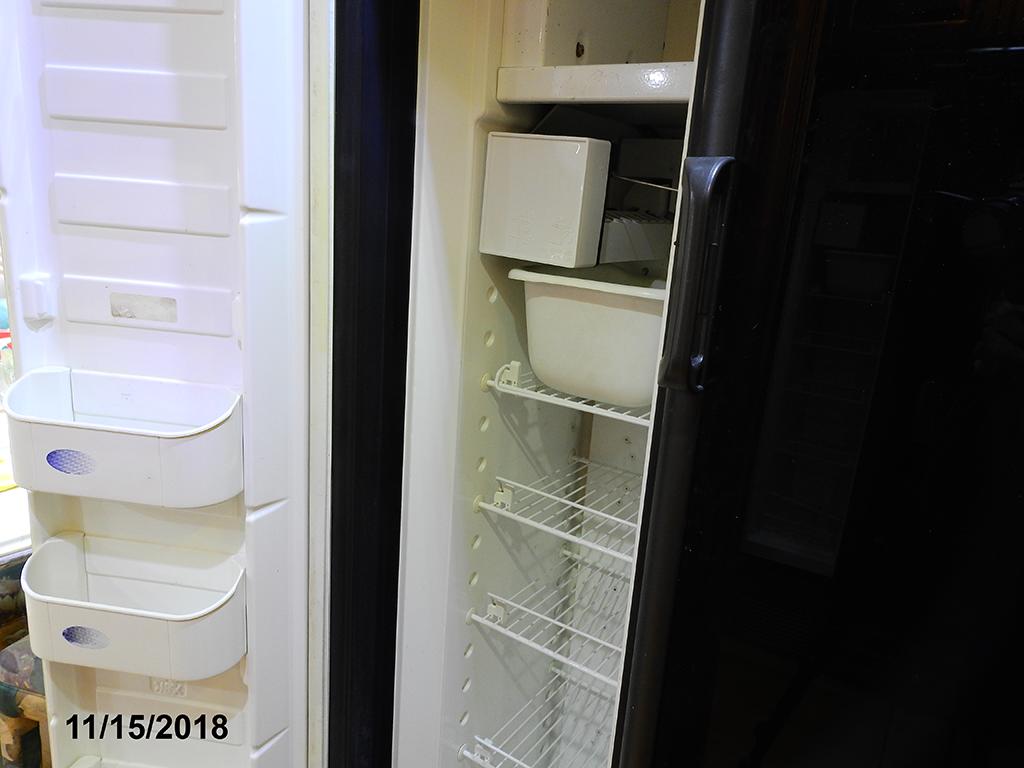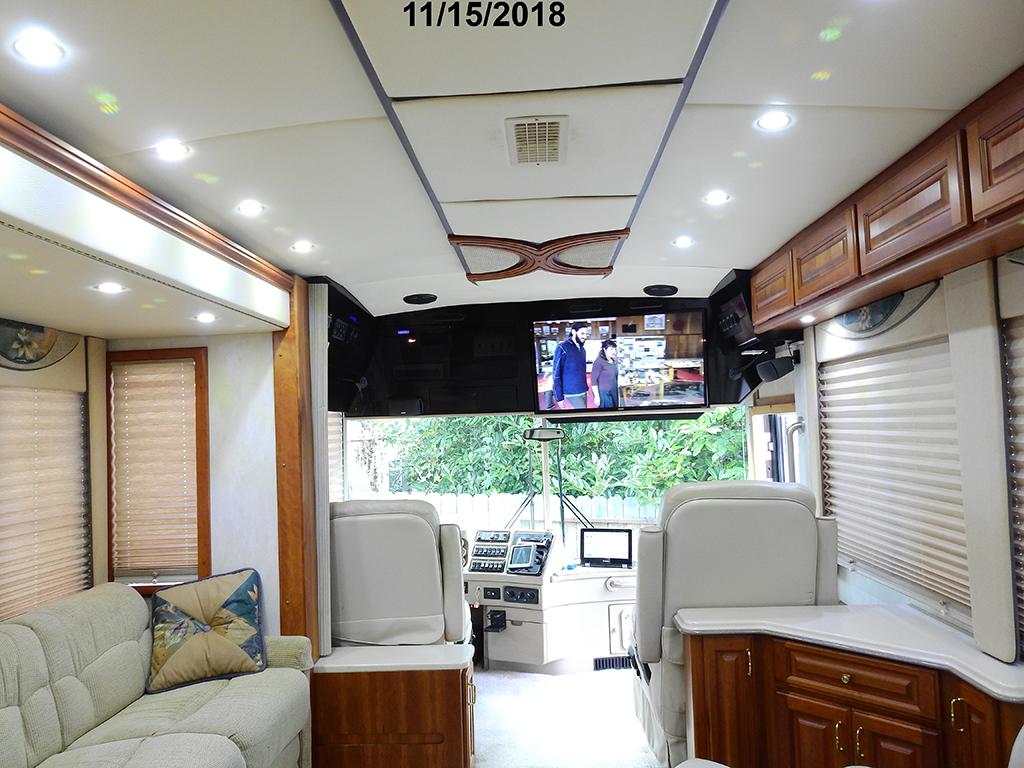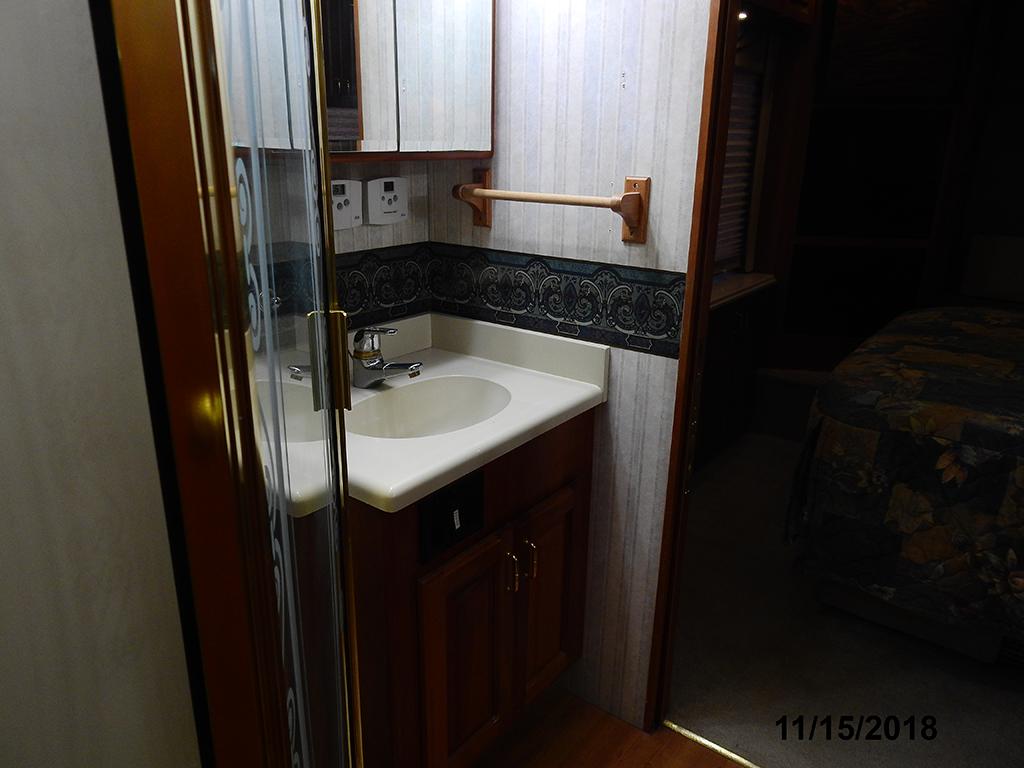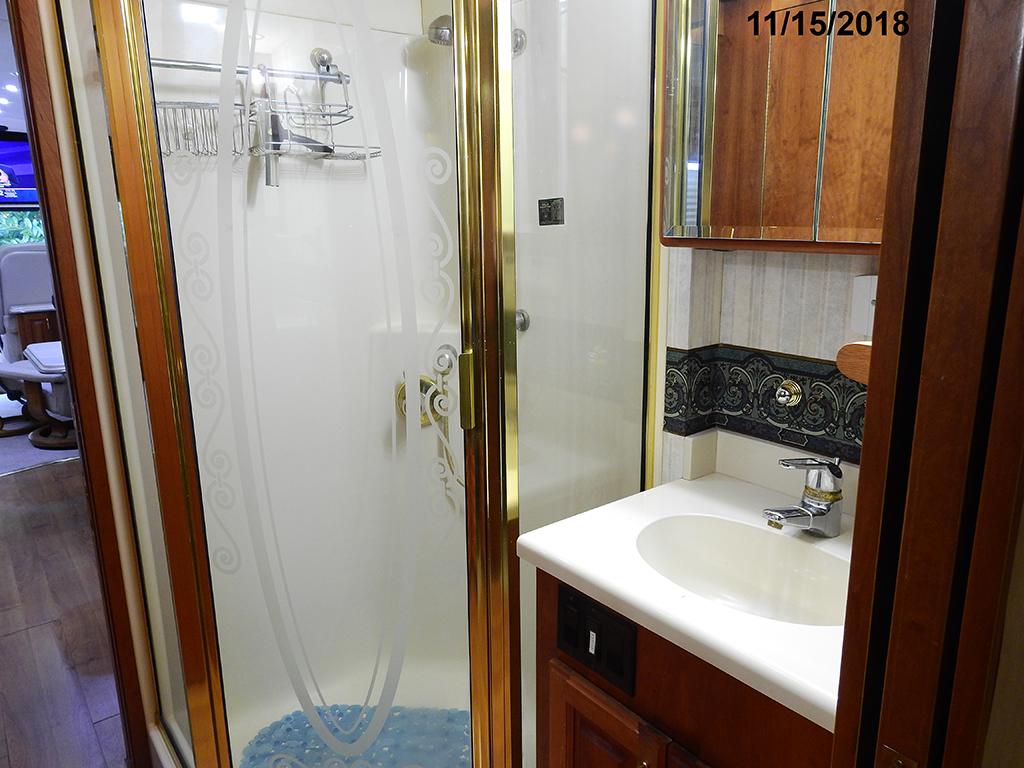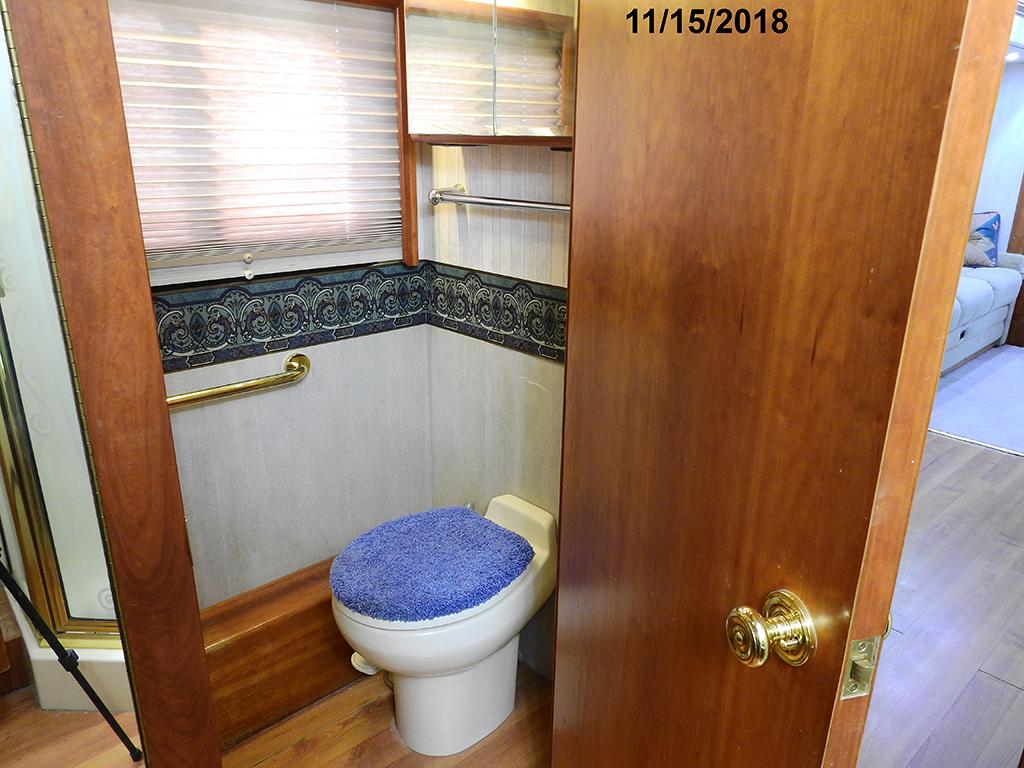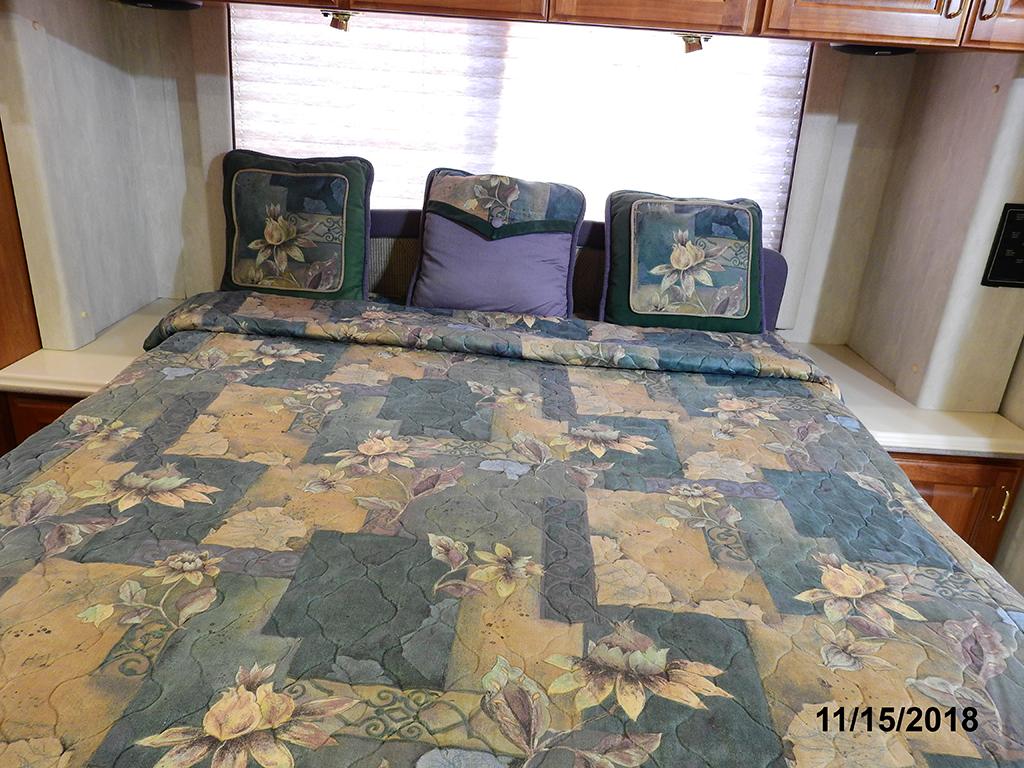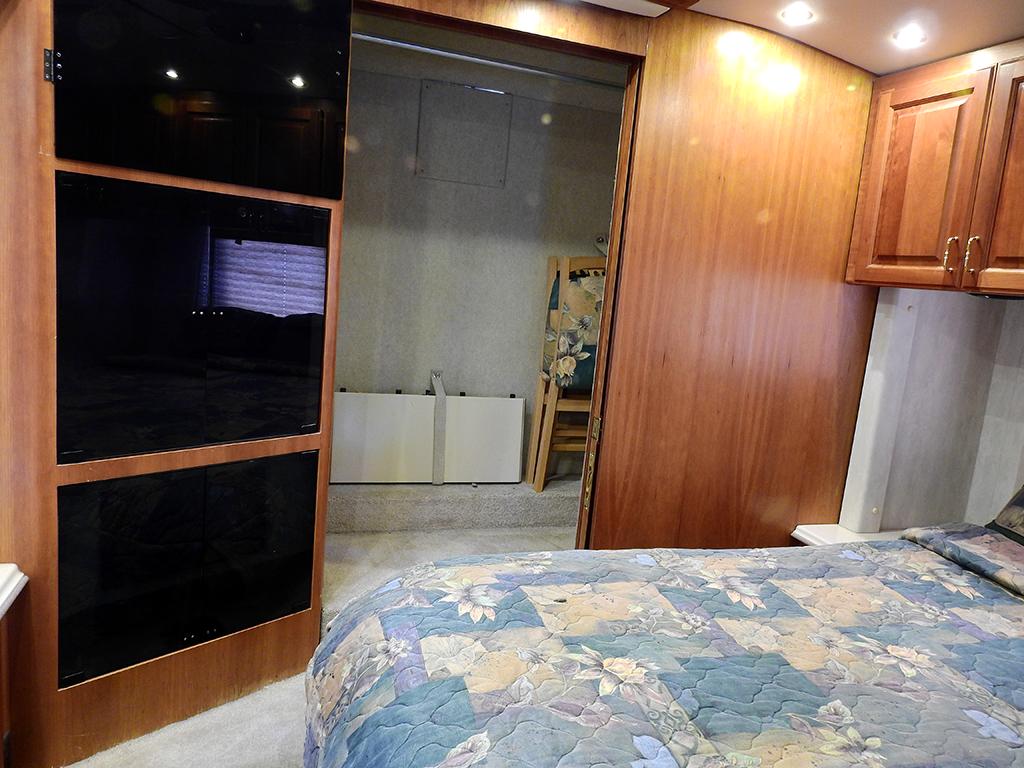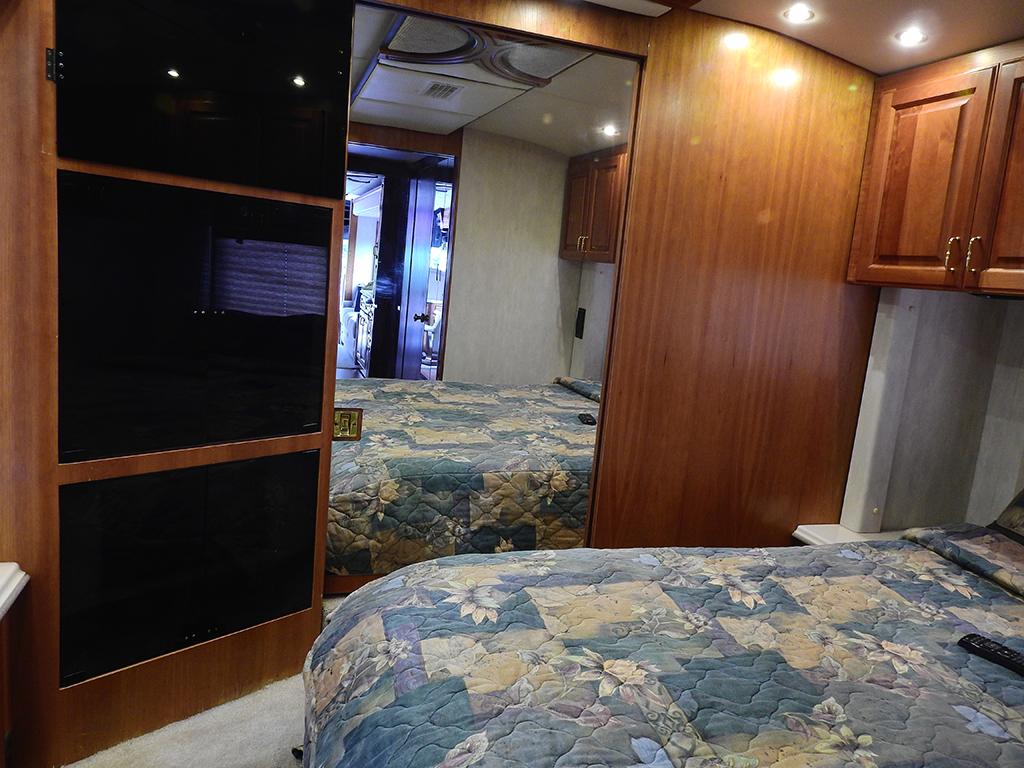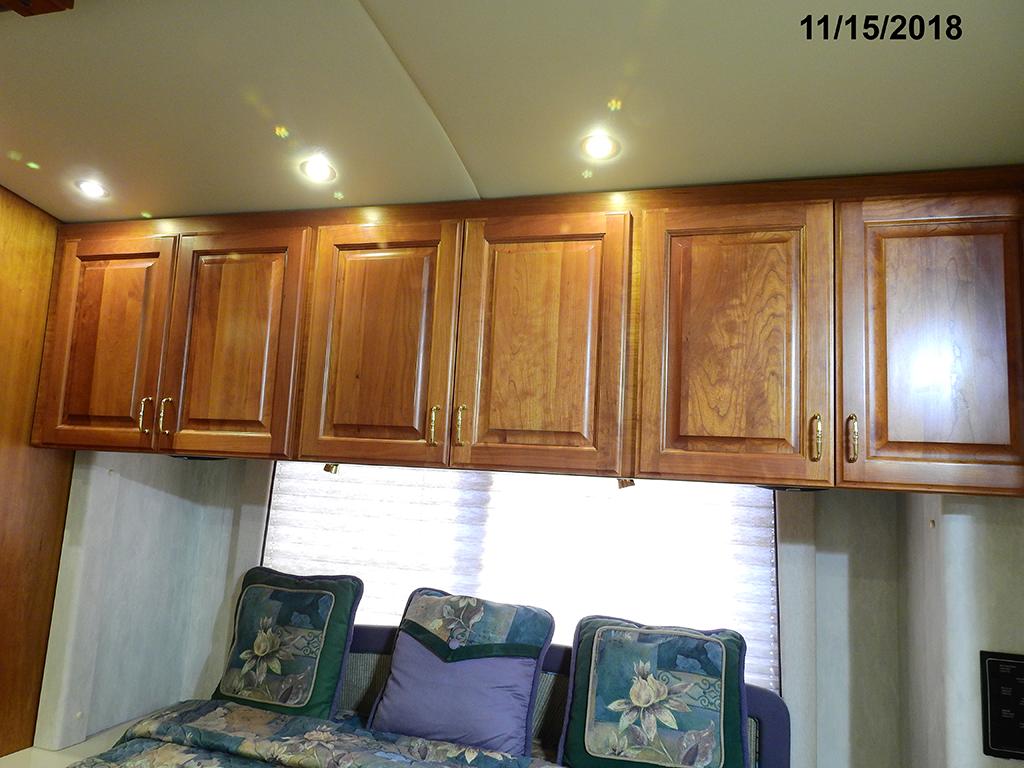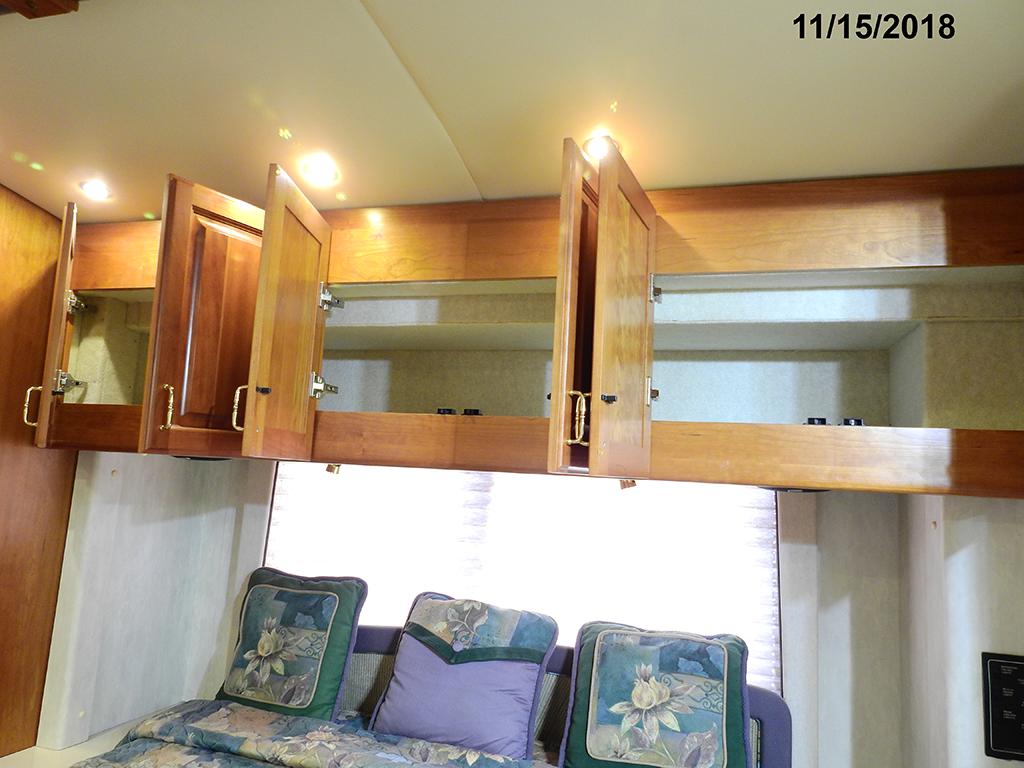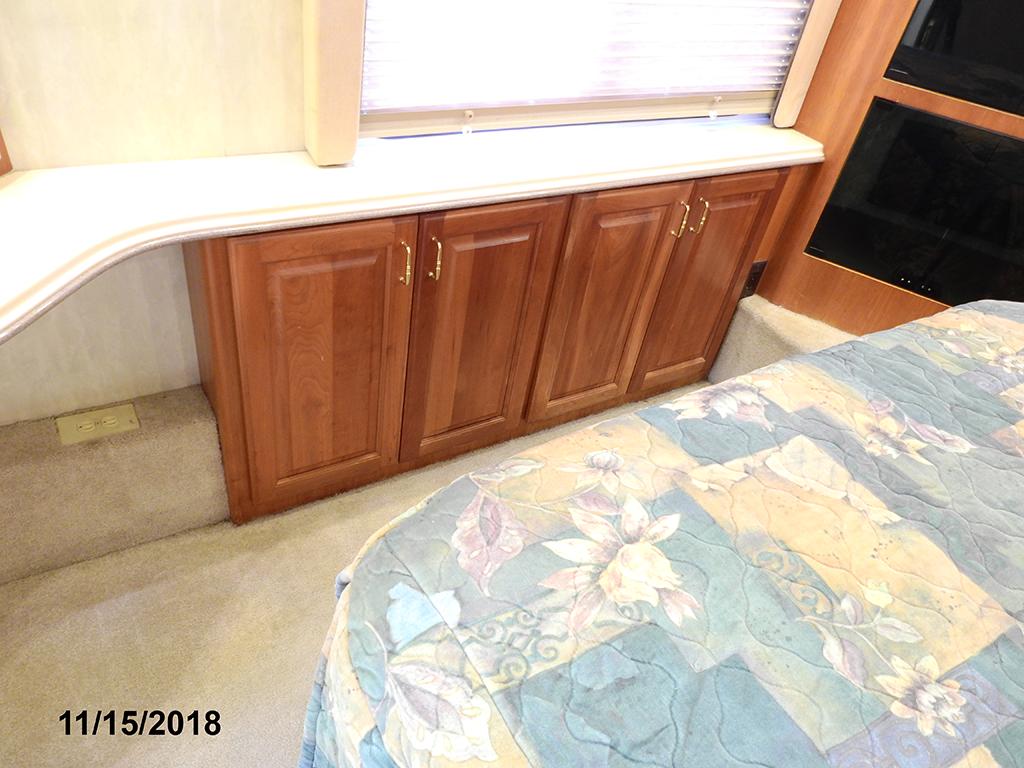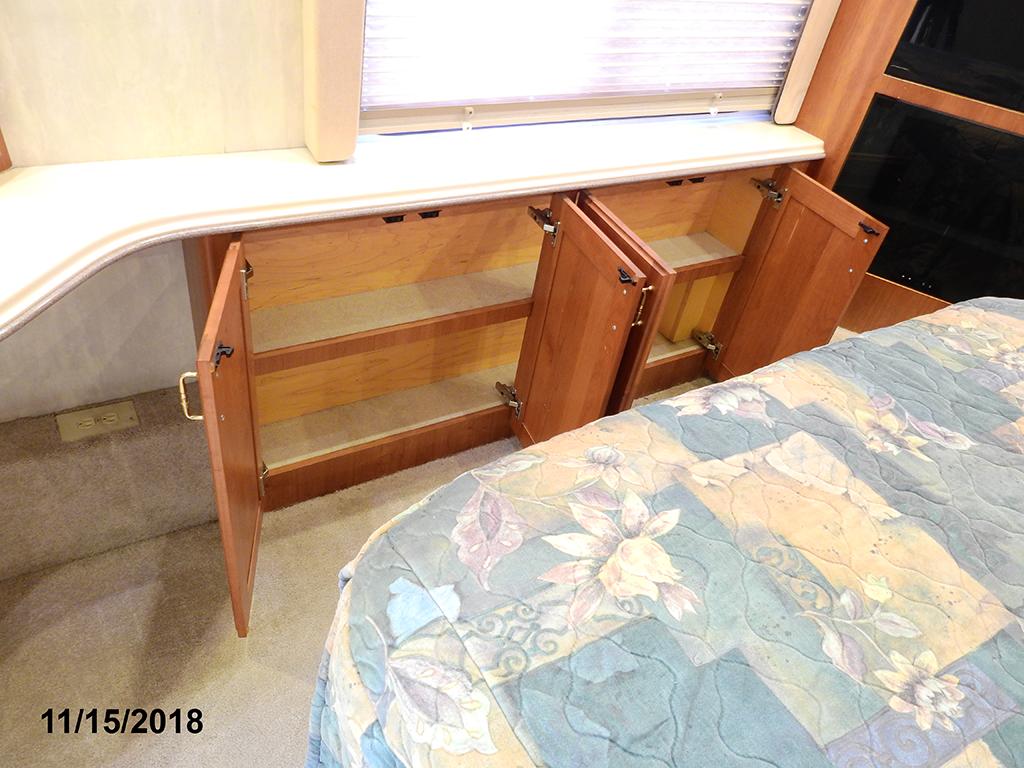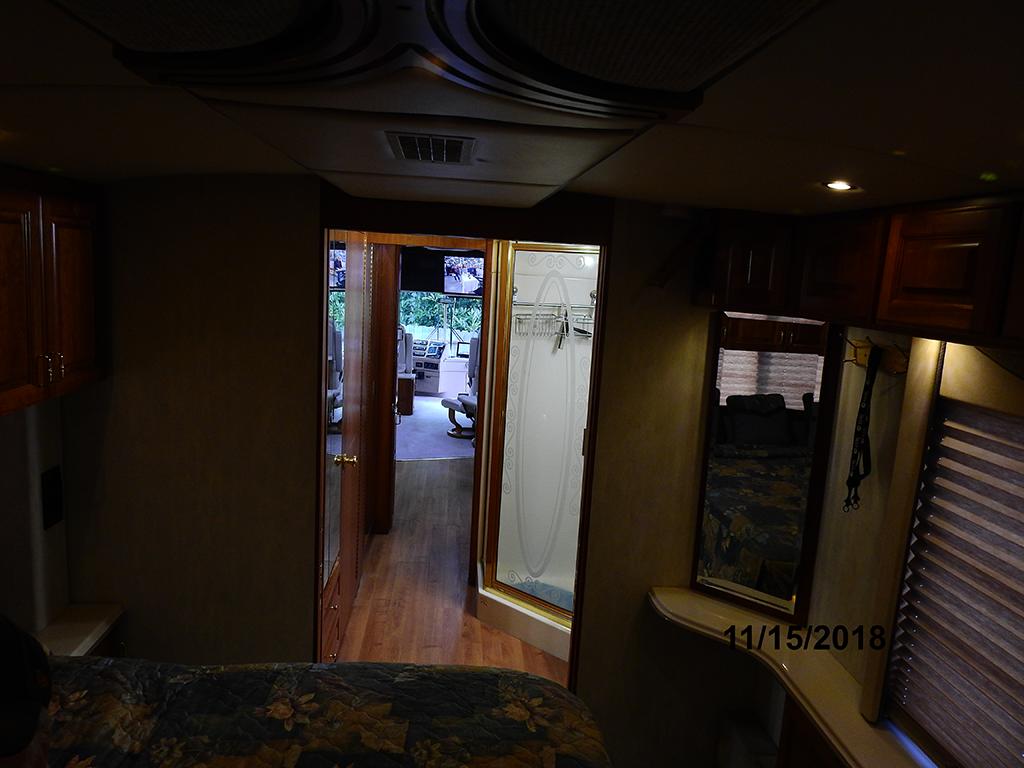 Bedroom TV on swing out behind door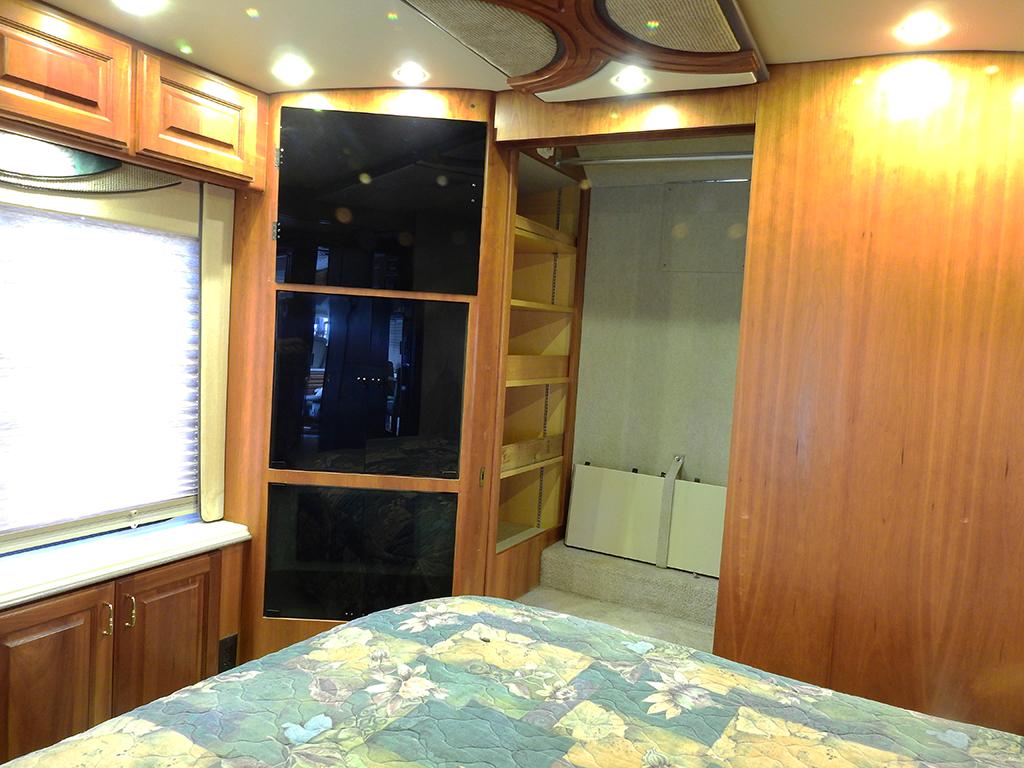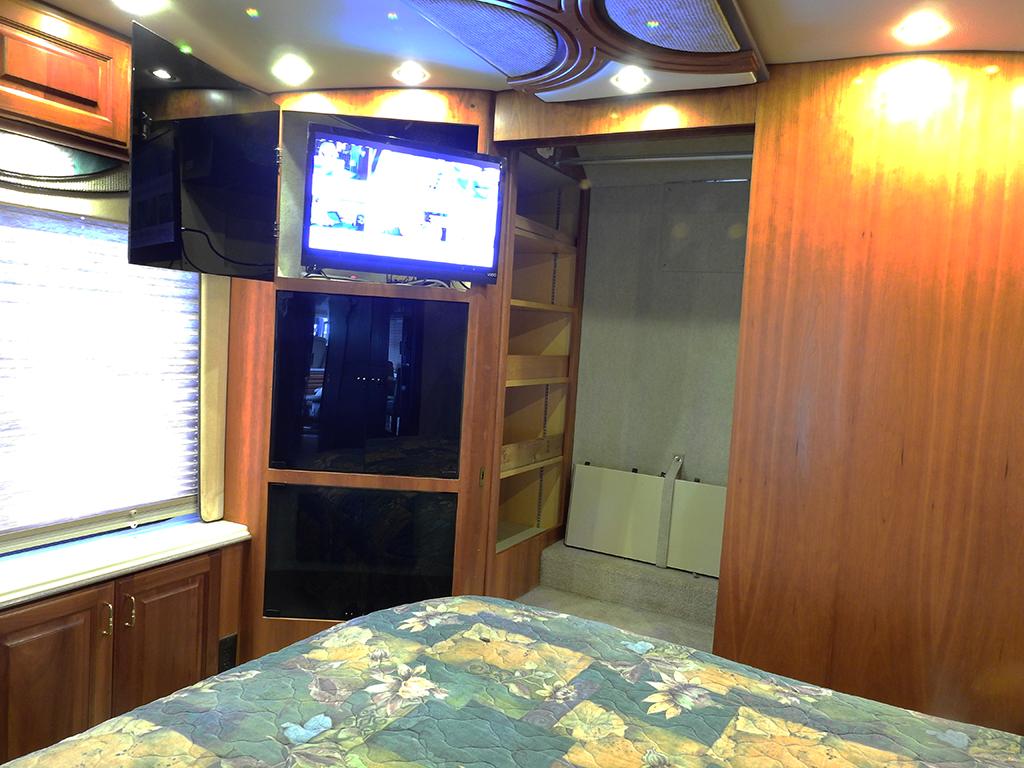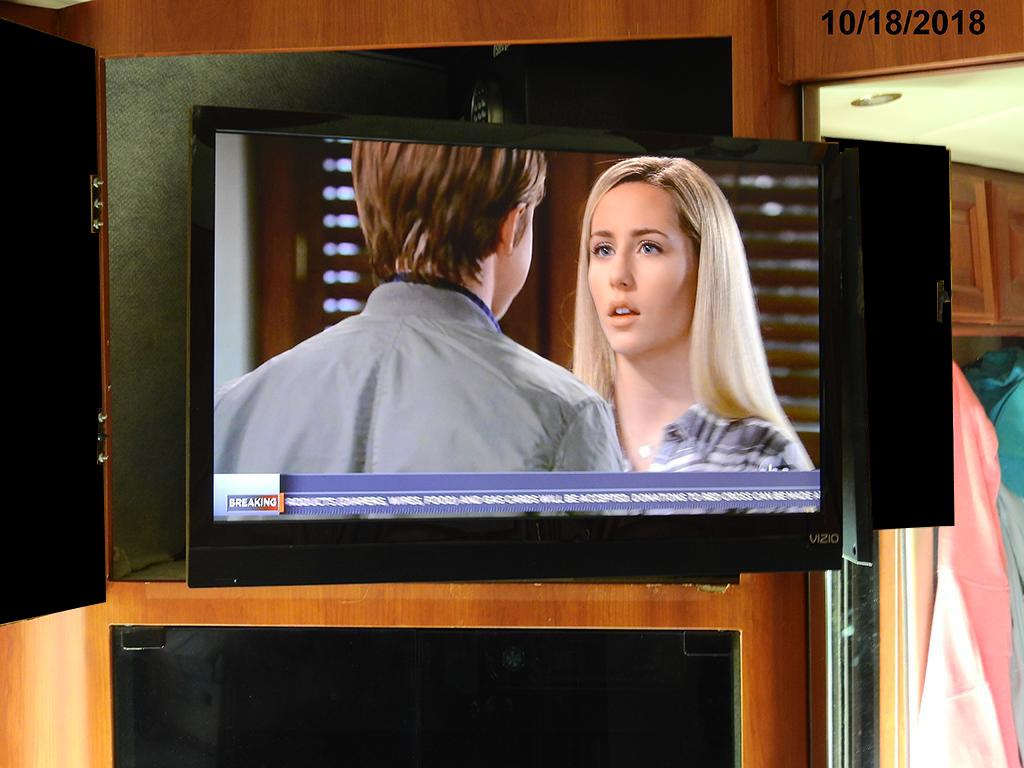 There are two stock options for blocking the windwhield, full-width venetian blinds, and a pair of motorized black shades. Neither provide full privacy, so we added a pair of curtains on a track. When not needed they pull around behind the driver's seat on the left.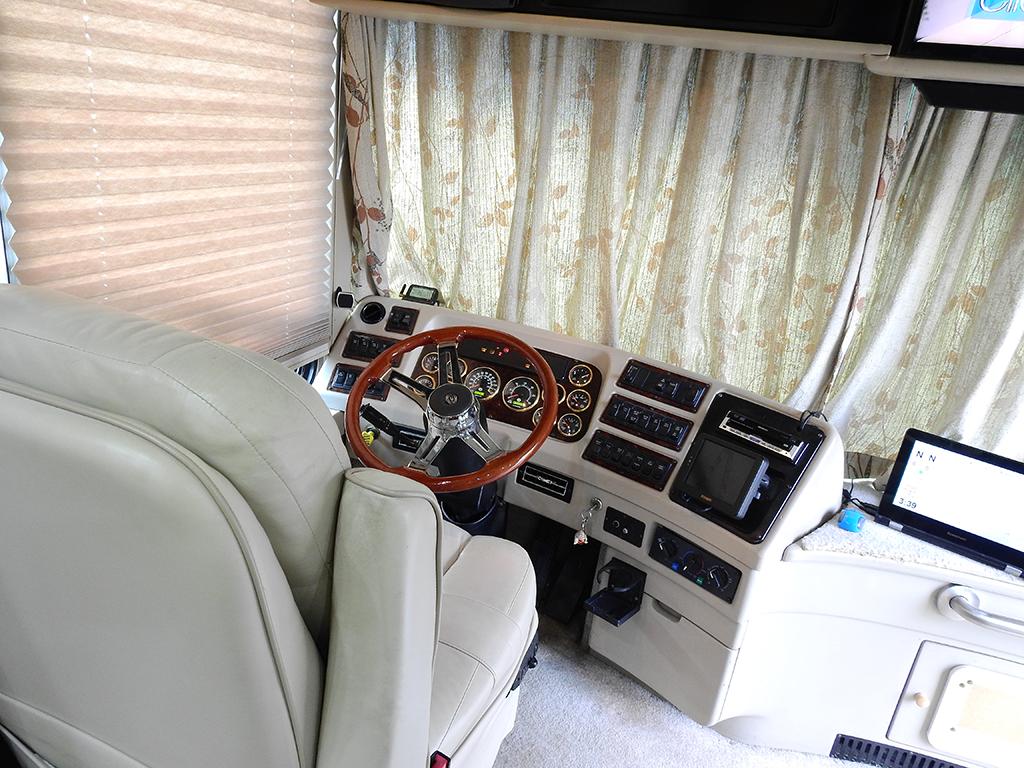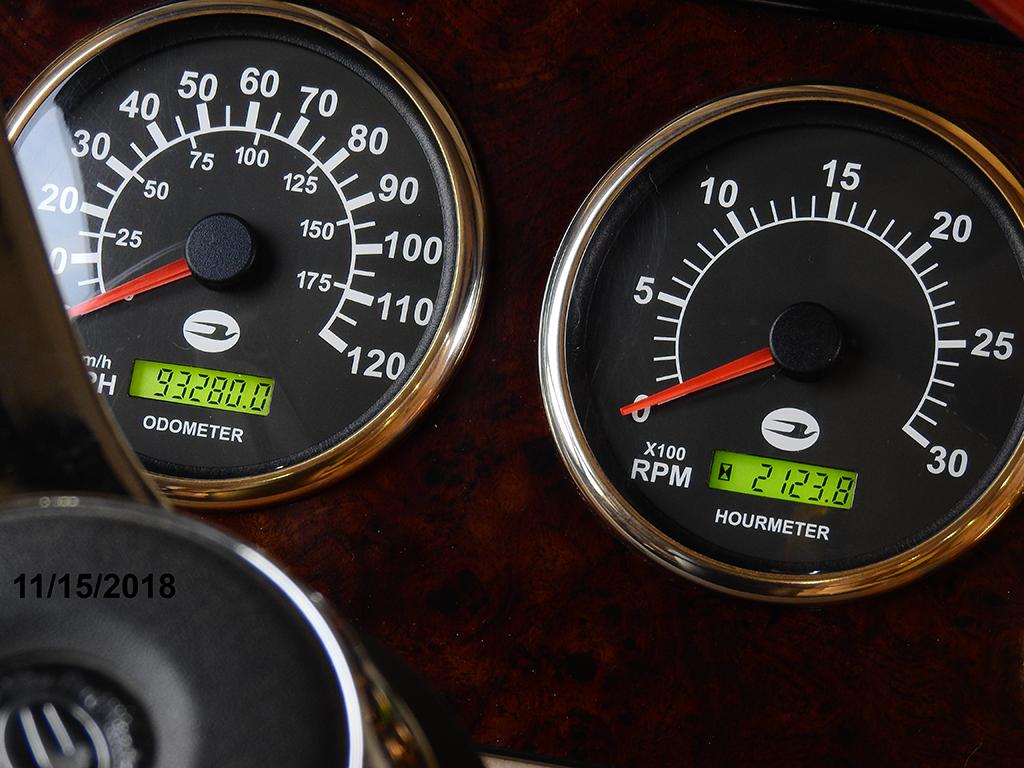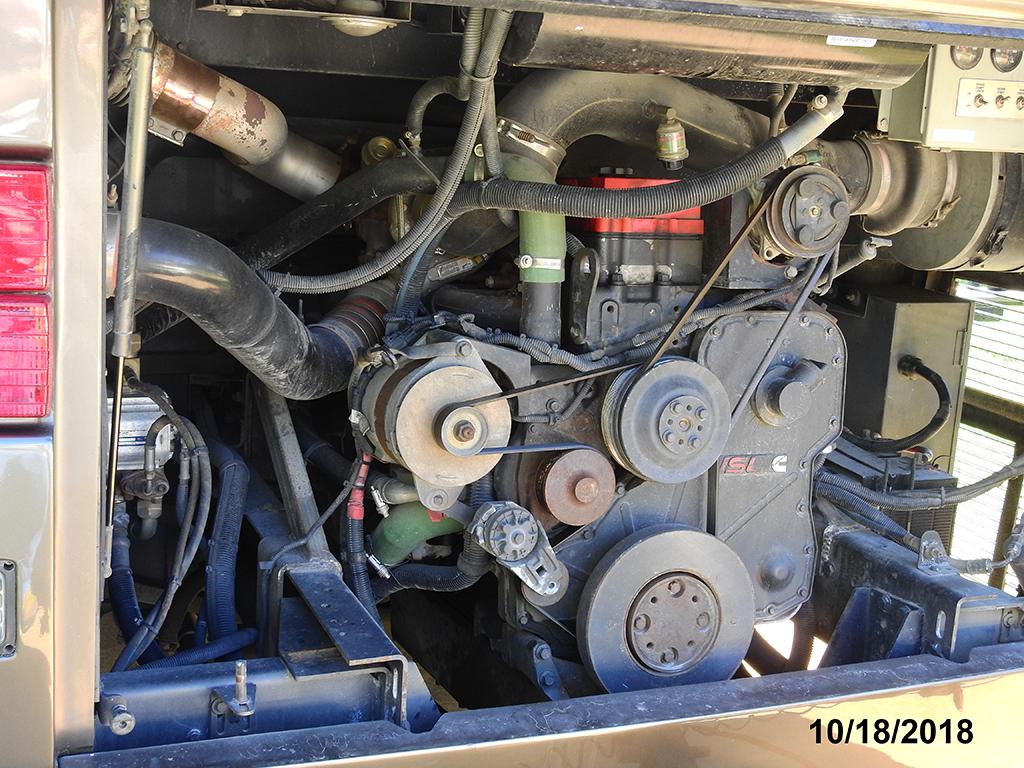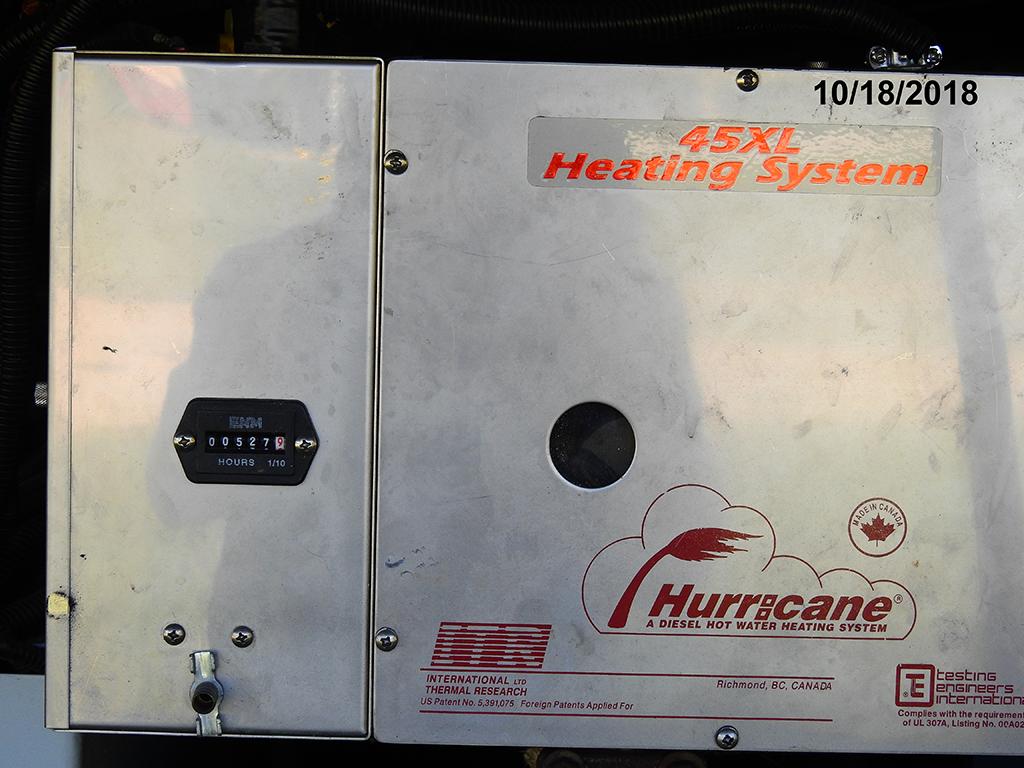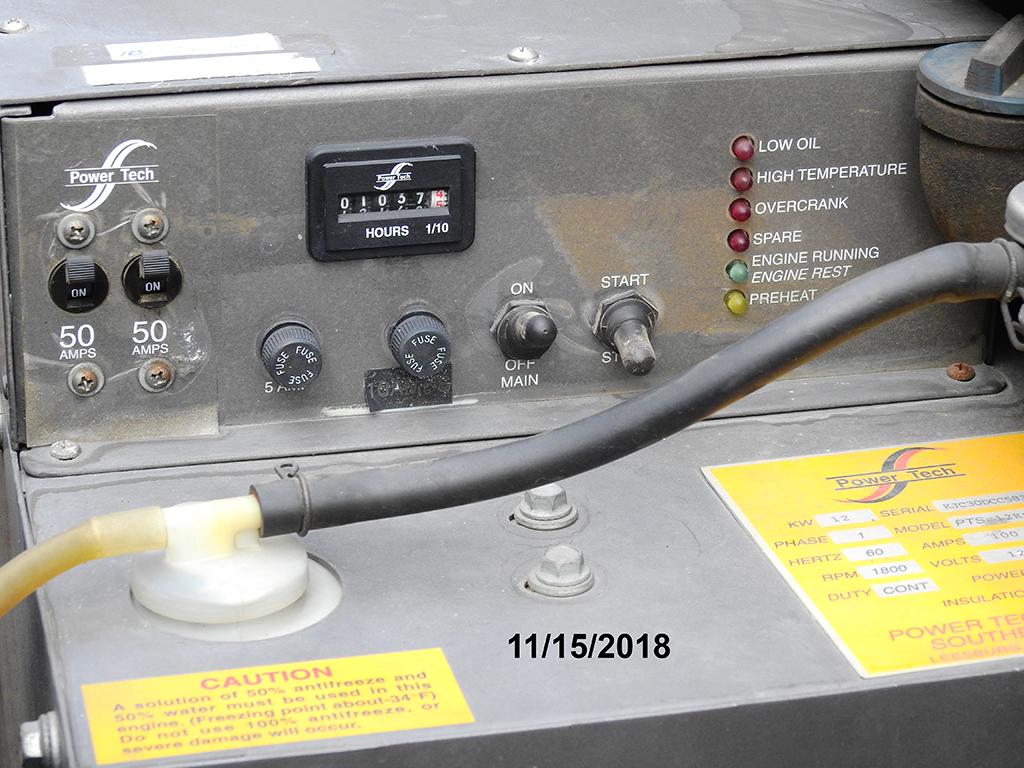 110V air pump. There is also a 12V air pump to maintain seal pressure.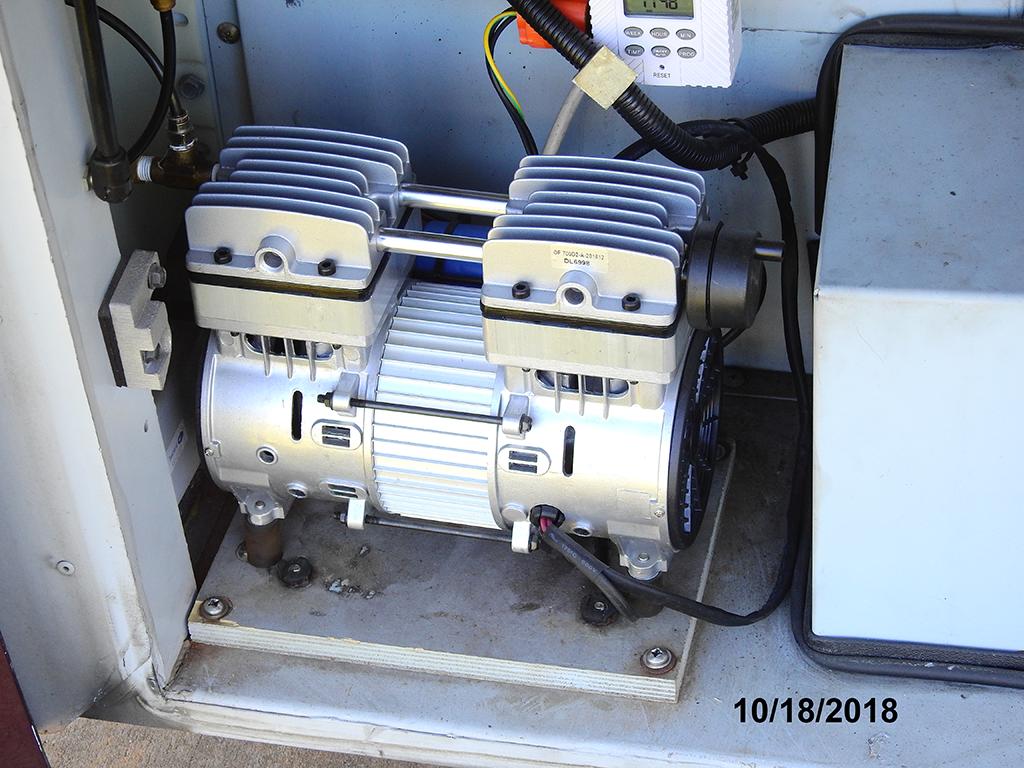 Comments? Send mail to donb@arcatapet.net
Snail Mail: Arcata Pet, 600 F Street, Arcata, CA 95521-6301 USA

Webspace provided by and ©Copyright 1994-2022 by Don Bradner, All Rights Reserved.